Alinco DR-735E 145/433 MHz Dual Band Transceiver
£0.00
(

£0.00

exc. VAT)
£349.96
(

£291.63

exc. VAT)
Finance Available
Radioworld now offer finance through our partners Close Brothers.
Add the item to your basket in the normal way and at checkout choose to make payment via Finance. You'll then be taken through to our partners Pay4Later to make your finance application.
| Item Cost | Finance Option | Deposit | Monthly Payments | Total Cost |
| --- | --- | --- | --- | --- |
| £349.96 | 12 Months 14.9% APR | £35.00 | £30.16 | £396.89 |
| £349.96 | 18 Months 14.9% APR | £35.00 | £20.10 | £396.89 |
| £349.96 | 24 Months 14.9% APR | £35.00 | £15.08 | £396.89 |
| £349.96 | 36 Months 14.9% APR | £35.00 | £10.05 | £396.89 |
| £349.96 | 48 Months 14.9% APR | £35.00 | £7.54 | £396.89 |
| £349.96 | 12 Months 19.5% APR | £35.00 | £31.36 | £411.37 |
| £349.96 | 18 Months 19.5% APR | £35.00 | £20.91 | £411.37 |
| £349.96 | 24 Months 19.5% APR | £35.00 | £15.68 | £411.37 |
| £349.96 | 36 Months 19.5% APR | £35.00 | £10.45 | £411.37 |
| £349.96 | 48 Months 19.5% APR | £35.00 | £7.84 | £411.37 |
Alinco DR735E Dual Band VHF/UHF Mobile with remote head facility.
Full Duplex, Extended RX 108 - 174 MHz, 400 - 479 MHz
Large Display with "rainbow" of colour options
1,000 Memories
Scan facility
Power 50/20/5w output
Computer programmable with free downloadable software
Internal duplexer allows single antenna socket for Dual Band antennas
Easy repeater access - Features manual shift and offset direction setting plus preset and programmable auto-repeater settings. Includes 4 tone-burst tones.
Versatile memory functions Includes 1,000 memory channels in 10 banks, 100 right-only/100 left-only memories, 100 dual memories, 5 pairs of programmed-scan channels, and 2 call channels.All memory channels can hold output setting, tones, LCD display color selections and more.Easy-to-Read Display
Large LCD Display screen offers adjustable display brightness, color and contrast along with 6-character alphanumeric tags, a brightness timer that boosts light levels temporarily when keys are engaged and a scan light feature that increases brightness for two seconds when scanning stops.
Convenient Receiver Functions Includes popular functions such as pager (icon and beep tones), extended receive, aviation and utility monitoring on VHF and UHF frequencies, a variety of selectable channel steps, CTCSS/DCS capabilities for selective monitoring, a 10dB RX attenuator, sub-band mute, reception image rejection and auto-power-off.Advanced Transmitting Features These features are part of the set mode menu that includes time-out-timer and busy channel lockout as well as an adjustable mid-power output level, microphone gain adjustment and cross-band repeat (T model only)*.
Selectable Scan Modes - Choose from a variety of scan modes that include VFO, memory, programmed or priority scans with busy and timed modes, CTCSS/DCS tone detection and memory scans with ?skip? and ?favorite? settings. (Utility software required for priority scan setting.)
Popular Features Other popular features include single-band mode, a restore function that recalls set-mode settings even after a complete reset, different reset modes (system, complete, VFO, memory and color resets), cable-cloning and utility software.
Full description
The Alinco DR-735 features eight full color LEDs enabling you to customize your display colours! Using 10 standard colors plus 6 color memory channels in the set mode, the DR-735 lets you assign different colors for different functions. For example, you can designate one color to the right VFO and a different color to the left VFO or add them to memory so you can see at a glance which memory bank you are using. It's your choice whether to use blue for VHF memories, pink for local repeaters, green for aviation channels or yellow for UHF channels. And, you can set the status colors for TX/RX/Standby separately. You can also select 2 animated multi-color displays.
This radio has fully independent keys and dials to deliver true dual-band operation. The removable front panel can be remotely mounted or inverted for optimal speaker placement.
Full-duplex receiver enables simultaneous TX/RX within 144/440MHz bands as well as V/V and U/U receiver capability. Fully independent frequency, audio level and squelch knobs for right and left VFOs make it seem more like operating two monoband radios rather than a dual band transceiver. Simply press the volume knob to select the VFO you wish to use for transmitting.
Cross-band repeater function available on all DR-735T radios. (Be sure to observe all regulations applicable to cross-band operation.)
Computer programmable with free software available for download at  www.alinco.com
Set Mode menus are divided into basic and advanced, allowing you to assign less frequently used modes such as auto power off or busy channel lockout to set and forget. That makes it easier to access the menus you use more often, such as scan mode and pager settings.
Large heatsink and quiet fan for stability while operating Wide and narrow ceramic Filters enable true narrow band operation Two speaker ports located on the back of the unit allow you to separate signals by both right and left sides or by internal or external speakers using audio from a single external source.
Specifications:
Frequency range TX: T VHF 144.00 - 147.995MHz / UHF 430.00 - 449.995MHzTX: E 144.00 - 145.995MHz / 430.00 - 439.995MHzRX:108.000-173.995MHz-400.000-479.995MHz
Modulation 16K0F3E(FM)/8K50F3E(Narrow FM)/F1E(digital voice)/F2D(1200bps)/A3E(RX only/AM)
Channel Steps 5.6.25, 8.33,10,12.5,15,20,25,30,50, 100,KHz
Memory channels Free-programmable 1000,ch / R+L 100 ch each / dual 100ch VHF CALL / UHF CALL 1ch each / 5 pairs program scan
Antenna impedance 50 ohm unbalanced
Freq.stability ±2.5ppm (TCXO-10+60)
Power Supply Requirement
13.8V DC ±15% Negative ground
Current Drain (Approx.) 12A TX high / 0.6A RX max. / 0.4A RX squelched
Usable temperature range -10 to +60 (14F to 140F)
Dimensions (Approx.) 140mm(W) X 60mm(H) X 188mm(D) or 5.5 x 2.4 x 7.4 inches
Weight (Approx.) Approx. 1.3kg or 45.9oz
Transmitter
Output (Approx.) High 50W / Mid 20W / Low 5W
Modulation System Variable Reactance Frequency Modulation
Max.Frequency Deviation ±5KHz (FM) ±2.5KHz (NFM)
Spurious emissions Less than -60dB2k
Microphone impedance 2k
Others who viewed this item WERE ALSO INTERESTED IN...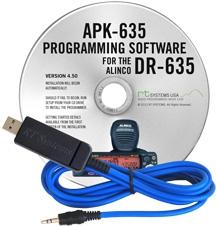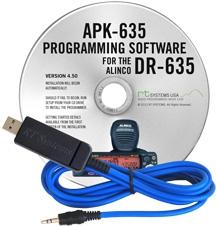 RT Systems APK-635 Programming software makes it easy to manage memory channel information and other menu settings of the Alinco DR-635.Spreadsheet la...
£44.95