Alpha antenna 10-80m alpha loop + tripod & bag
£0.00
(

£0.00

exc. VAT)
£499.00
(

£415.83

exc. VAT)
Fast uk delivery
Worldwide delivery
Finance Available
Radioworld now offer finance through our partners Close Brothers.
Add the item to your basket in the normal way and at checkout choose to make payment via Finance. You'll then be taken through to our partners Pay4Later to make your finance application.
| Item Cost | Finance Option | Deposit | Monthly Payments | Total Cost |
| --- | --- | --- | --- | --- |
| £499.00 | 12 Months 14.9% APR | £49.90 | £43.00 | £565.91 |
| £499.00 | 18 Months 14.9% APR | £49.90 | £28.67 | £565.91 |
| £499.00 | 24 Months 14.9% APR | £49.90 | £21.50 | £565.91 |
| £499.00 | 36 Months 14.9% APR | £49.90 | £14.33 | £565.91 |
| £499.00 | 48 Months 14.9% APR | £49.90 | £10.75 | £565.91 |
| £499.00 | 12 Months 19.5% APR | £49.90 | £44.72 | £586.57 |
| £499.00 | 18 Months 19.5% APR | £49.90 | £29.82 | £586.57 |
| £499.00 | 24 Months 19.5% APR | £49.90 | £22.36 | £586.57 |
| £499.00 | 36 Months 19.5% APR | £49.90 | £14.91 | £586.57 |
| £499.00 | 48 Months 19.5% APR | £49.90 | £11.18 | £586.57 |
Recommend a friend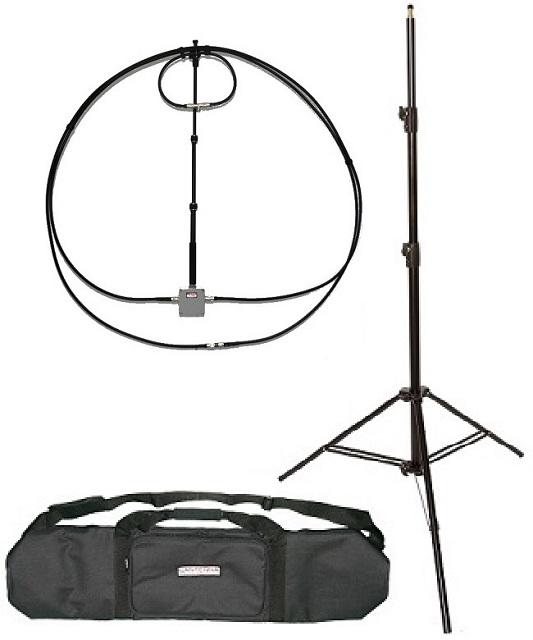 Alpha antenna 10-80m alpha loop + tripod & bag
At over 21 feet in total length with the Booster Cable installed, the Alpha Loop (Sr) has the most surface area (for superior skin effect) of any manufactured small transmitting loop. This 10 through 80 Meter Alpha Loop with 6:1 vernier reduction drive offers you a light 10-40 Meter 30 watt PEP SSB (approximately 15 watts CW) transmit/receive antenna in a small package that deploys in 2 minutes. The 40-80 meter Booster Cable enables coverage from 3.5 through 7.0 MHz at 20 watts PEP SSB on 80 meters, while simultaneously boosting performance on 40 meters beyond what all other Small Loop Antennas can deliver.
Included: NOW with 6 Foot Tripod and Padded 31x6x6 inch Bag with Padded Front Pocket & Shoulder Strap
6:1 Vernier Reduction Drive
Outer Loop with continuous frequency coverage from 7 MHz to 29.7 MHz or 3.5 MHz to 7 MHz using marine sealant and crimped & soldered Silver Plated PL-259s, which is the same technique used to build MIL-SPEC connections for the U.S. Military
Mount - Integrated mount with 3/8x24 & 1/4x20 threads
Silver-plated SO-239s are milled and formed 100% in the U.S.A.
Alpha Match enclosure - High voltage enclosure
The Coaxial Alpha Loop Antenna is pedestrian portable via the included Selfie-Stick or you can mount it on the included tripod.
This is perfect when you need a High-Q directional HF antenna with low noise capabilities. This is the only Commercially available loop that uses an inner Shielded LMR400 Faraday Loop, which lowers RFI by shielding the loop your coax connects to. Also included is the LMR400 based outer element of the Alpha Loop.
STANDARD
Assembles and disassembles in 60 seconds. As this antenna is a loop, there are no taps on coils and no counterpoise wires needed. Has a built-in tuner that allows you to easily match the antenna for transmitting and receive from 7 MHz to 29.7 MHz or 3.5 MHz to 7 MHz (80 Meters through 10 Meters). High noise rejection is also one of the favorite features of this antenna for many operators in RFI-prone environments.
HOW DOES IT WORK?
The Coaxial Alpha Loop Antenna appears as a large resonant circuit to your transceiver. The loop is a large single turn inductor of the circuit. Due to the large size of the inductor, radiation of your signal very easily takes place.
Booster Cable
The AlphaLoop Booster Cable enables your 10-40 meter Alpha Loop Antenna to transmit and receive on 60 & 80 meters. The AlphaLoop Booster Cable also increases the efficiency by 40 meters.
The Booster Cable consists of a specially tuned section of Times Microwave LMR-400 coax plus a double-female SO239/UHF connector that connects to either PL259 on your 10-40 meter outer loop, resulting in an increase in efficiency from the double loop configuration. The Booster Cable is easily installed or uninstalled with Velcro straps.
ABOUT THE INDIVIDUAL COMPONENTS
Outer Loop: Constructed from LMR-400
Inner Loop: Shielded directly fed faraday loop that remains rigid to enable stable tuning and prevent SWR fluctuations.
Variable air capacitor: No RF conduction currents flow through the bearings of the rotor on the variable air capacitor that is constructed using dual-gang split stators.
Connectors: All connectors are silver plated using the highest quality connectors available
Housing: High voltage enclosure
Included Tripod: Integrated mounting point for the antenna
Included padded bag: Custom bag holds all components with room left for gear
Some of the advantages of the Alpha Loop over other manufactured loops include:
A) There are no lossy mechanical A/B switches in the Alpha Loop, which do increase resistance in the most sensitive location (at the capacitor).
B) Soldered, rather than crimped connections, are the only connection type used to connect the variable air capacitor to the SO239s within what we call the grey Alpha Matchbox.
C) Silver plated SO-239s & PL259s are used, which lowers resistance far beyond what the other connectors do.
D) The Booster Cable from Alpha Antenna increases the overall size of the Outer Loop by over 120% for 40 through 80 meters, thereby increasing real efficiency, rather than adding a lossy A/B switch and other losses to enable the antenna to function through 3.5 MHz.
E) Solid wire, rather than stranded wire that can introduce losses, is exclusively used between the variable air capacitor and SO239 connection points.
F) A nylon shaft is used to significantly lower hand capacitance between the knob and the variable air capacitor, rather than a metal shaft that can cause RF burns and will cause tuning to be difficult because of hand capacitance.
G) Rather than cutting corners and installing only two bolts on each SO239, Alpha Antenna uses four stainless steel bolts to hold the SO239 connectors in place.
H) A double-walled electrical enclosure with built-in metal nuts and a rubber grommet that seals the lid is used in the construction for the housing of the Alpha Match, rather than thin-walled housings with plastic catch points for screws or no rubber grommet to help keep the elements out that are found on housings other manufacturers use.
I) True Times Microwave LMR-400 coax is used for both the outer loops and the inner loop, rather than sub-standard coax or hardened aluminum both of which increases resistance and thus losses.
J) A built-in tripod mount is integrated into the well-engineered Alpha Loop's matching box, rather than tabletop or PVC pipe holes for tripod mounting.
K) Reversible mounting hardware on the Alpha Match allows the user to customize the configurable option that places the tuning knob on the top or bottom of the loop's matching box, rather than forcing the user into just one operational configuration.
L) The Alpha Loop is the ONLY manufactured system that uses shielded faraday technologies to construct the inner loop. Even if another manufacturer succeeded in meeting the high standards in the previous points, they would fall short if this technology that has been patented by Alpha Antenna wasn't integrated.
Our Price Match Promise means that if you find any of our Equipment at a lower advertised price elsewhere, we will match the price for you, subject to the below.
The product is identical to ours in brand, colour, size and model number.
The price must be the advertised price clearly on the competitor's online site.
The item must be in stock and available for immediate purchase (rather than available to order), with the authorised stockist able to complete delivery within 2-3 days.
Please fill out the form below. The details will be used to help us with your price promise request.
Others who viewed this item WERE ALSO INTERESTED IN...