Alpha antenna 10-80m multiband military 2.0 directional tuner free antenna
£0.00
(

£0.00

exc. VAT)
£369.95
(

£308.29

exc. VAT)
Fast uk delivery
Worldwide delivery
Finance Available
Radioworld now offer finance through our partners Close Brothers.
Add the item to your basket in the normal way and at checkout choose to make payment via Finance. You'll then be taken through to our partners Pay4Later to make your finance application.
| Item Cost | Finance Option | Deposit | Monthly Payments | Total Cost |
| --- | --- | --- | --- | --- |
| £369.95 | 12 Months 14.9% APR | £36.99 | £31.88 | £419.56 |
| £369.95 | 18 Months 14.9% APR | £36.99 | £21.25 | £419.56 |
| £369.95 | 24 Months 14.9% APR | £36.99 | £15.94 | £419.56 |
| £369.95 | 36 Months 14.9% APR | £36.99 | £10.63 | £419.56 |
| £369.95 | 48 Months 14.9% APR | £36.99 | £7.97 | £419.56 |
| £369.95 | 12 Months 19.5% APR | £36.99 | £33.16 | £434.87 |
| £369.95 | 18 Months 19.5% APR | £36.99 | £22.10 | £434.87 |
| £369.95 | 24 Months 19.5% APR | £36.99 | £16.58 | £434.87 |
| £369.95 | 36 Months 19.5% APR | £36.99 | £11.05 | £434.87 |
| £369.95 | 48 Months 19.5% APR | £36.99 | £8.29 | £434.87 |
Recommend a friend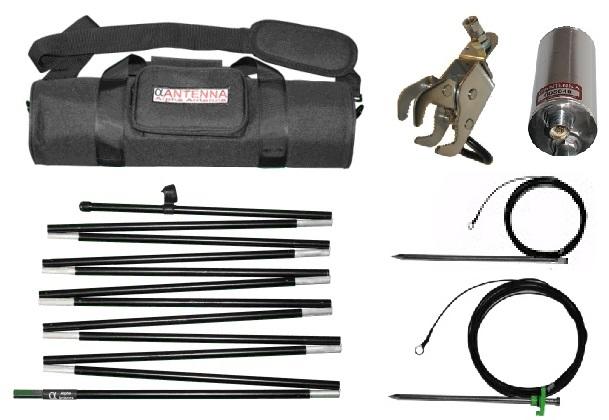 Alpha antenna 10-80m multiband military 2.0 directional tuner free antenna
Unlike any other antenna, the multiband Military 2.0 which is from the Multiband tuner free line of systems, fits in an included 16-inch Field Bag. When deployed, the Military 2.0 is a 10-80 meter directional antenna system, which can be configured to launch your signal at your target that has a maximum PEP SSB rating of 500 watts.
HISTORY: Years of perfecting the manufacturing process for Tuner Free systems has enabled Alpha Antenna to offer the world's most refined & resilient antenna, which is now in use by military forces around the globe. (Ref. Capabilities Statement )
PURPOSE: For targeted rapid deployment of ALE/Digital/CW/SSB/AM modes. The multiband Military 2.0 enhances high band DX with the Vertical MilStick element while low band Near Vertical Incident Skywave is simultaneously enhanced with the NVIS element, per the antenna model at the bottom of this page.
Deployment Options: A) Base Camp, B) Portable, C) Mobile and D) Manpack.
INCLUDED:
1 - Field bag that is 16 inches long and holds all of the following:
1 - MilStick whip made from .433" thick 13" aluminium sections,
1 - RFI Shielded weatherproof Alpha Match fully enclosed in 316 Stainless Steel,
1 - 8' ground wire with ground stake,
1 - QUICK Deployment Riser on Stainless Steel Jaw Mount=No loose hardware,
1 - 25' NVIS element wire with green insulator and removal stake,
Advancements over other manufacturers & previous versions: Automatic tuner-free matching; No changing of switches, jumpers, or coils are required for tuner-free operations, and touch-free tuner-free operations are something no competitor can claim.
Directional; Unique also to only the Alpha Multiband Antenna line of systems is a directional antenna system for international DX communications that also enhances NVIS (Near Vertical Incident Skywave) for stateside communications.
The Alpha Match; The protective housing of the Alpha Match is made of 316 Stainless Steel, which outperforms the Black poly Delrin that is still popular with other manufacturers. The inductor is now encased in a metal housing where it is isolated by a dialectic. This housing then enables the Alpha Match to capacitively balance the inductor once the elements are installed.
The MilStick Whip; The composite of the .433-inch diameter MilStick whip is a high strength, high quality, aerospace 7075-T9 alloy and at 13 feet is longer, has a larger diameter, & is stronger than any competitors whip. The construction of each element has a scratch-resistant hard-anodized surface. This surface is fully removed from each insert and also removed 2.5 inches inside each element. The inserts are then electrically bonded, where full contact RF continuity and connectivity are used to ensure maximum efficiencies are achieved. At the base of the whip, an embedded 8740 Steel (chrome moly) cadmium-plated stud supports the MilStick on the Alpha Match.
The Wiring Used; Sheathed 13 AWG memory-free wiring is used, which has a tensile break strength of 500 pounds that is rated for temperatures from -40°C to +75°C. VS. Wiring that is so light duty that it can be wrapped around a kite string holder.
The Padded Field Bag; Made from 600D nylon with embroidered logo and high-quality zippers. This highly customized bag has a padded front pocket and a padded larger inner compartment, plus a shoulder strap with a padded shoulder pad.
Our Price Match Promise means that if you find any of our Equipment at a lower advertised price elsewhere, we will match the price for you, subject to the below.
The product is identical to ours in brand, colour, size and model number.
The price must be the advertised price clearly on the competitor's online site.
The item must be in stock and available for immediate purchase (rather than available to order), with the authorised stockist able to complete delivery within 2-3 days.
Please fill out the form below. The details will be used to help us with your price promise request.
Others who viewed this item WERE ALSO INTERESTED IN...