Colibri ddc sdr with ethernet interface
£0.00
(

£0.00

exc. VAT)
£599.95
(

£499.96

exc. VAT)
Finance Available
Radioworld now offer finance through our partners Close Brothers.
Add the item to your basket in the normal way and at checkout choose to make payment via Finance. You'll then be taken through to our partners Pay4Later to make your finance application.
| Item Cost | Finance Option | Deposit | Monthly Payments | Total Cost |
| --- | --- | --- | --- | --- |
| £599.95 | 12 Months 14.9% APR | £60.00 | £51.70 | £680.41 |
| £599.95 | 18 Months 14.9% APR | £60.00 | £34.47 | £680.41 |
| £599.95 | 24 Months 14.9% APR | £60.00 | £25.85 | £680.41 |
| £599.95 | 36 Months 14.9% APR | £60.00 | £17.23 | £680.41 |
| £599.95 | 48 Months 14.9% APR | £60.00 | £12.93 | £680.41 |
| £599.95 | 12 Months 19.5% APR | £60.00 | £53.77 | £705.24 |
| £599.95 | 18 Months 19.5% APR | £60.00 | £35.85 | £705.24 |
| £599.95 | 24 Months 19.5% APR | £60.00 | £26.89 | £705.24 |
| £599.95 | 36 Months 19.5% APR | £60.00 | £17.92 | £705.24 |
| £599.95 | 48 Months 19.5% APR | £60.00 | £13.44 | £705.24 |
Recommend a friend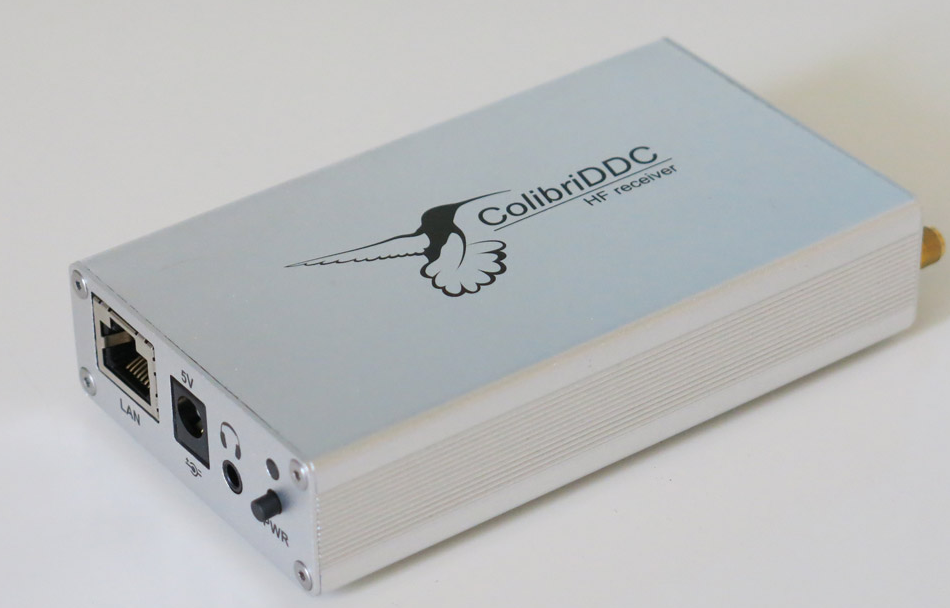 Colibri ddc sdr with ethernet interface
Colibri DDC SDR is a direct sampling HF receiver (direct down conversion, DDC) with a frequency range from 0 to 55 MHz. The AD converter has 14 bit word length, the sample rate is 125MS/s. This makes the Colibri SDR suitable for demanding shortwave listeners (SWL), radio amateurs and professional monitoring applications.
The receiver of the Colibri SDR offer a frequency range from 9 kHz to 55 MHz, which is sampled directly by the ADC. With the use of oversampling and additional (optional) anti-aliasing filters, the reception range can be extended up to 800 MHz, although with reduced parameters. The Colibri provides a 55MHz low pass filter at the input, followed by a switchable 20 dB attenuator. The high clock rate of 125 MHz is supplied by a temperature controlled oscillator. Optionally an external 10 MHz clock signal can be supplied when highest precision is required. The 14 bit AD converter is followed by a powerful FPGA chip, which handles the SDR typical data reduction, and sending the data over the Ethernet interface. Additionally an analog audio output is provided for convenient listening to received signals. The benefit of this output is that the signal is only minimally delayed. The analog output uses a 24 Bit DAC and is suitable for headphones.
A speciality of the Colibri DDC SDR is the Ethernet interface, which allows the receiver to be integrated into a local area network or to be connected directly to one computer. In contrast to other radiso whioch use USB connections, an Ethernet connection allows for much higher data rates and longer cable distances. Even remote operation over a LAN is possible. To provide a hassle-free and seamless integration into the network, the Colibri SDR offers automatic IP adressing by provinding a DHCP server, if required. With this function you can connect the SDR directly to one computer, without a network switch. Just connect the receiver to ypur computer and go! This is perfect for vacation use or portable operations. Of course the Colibri SDR also supports static IP addressing for fixed environments.
The supplied "ExpertSDR2" software offers the display of the entire spectrum up to 62.5MHz as a panorama view. Within the specturm tweo independant receivers can be places, both offering up to 312kHz bandwidth. Both receive ranges are shown with spectrum and waterfall display. The software offers decoders for all usual modulations like LSB, USB, DSb, AM, S-AM, FM. WFM and CW. The IQ data can be supplied to external program decoders, as well as the demodulated audio data for decoder programs like FLdigi or similiar (requires "virtual audio cable" (not supplied)).
A built in interface offers 7 freely programmably digital output ports (open collector). With these signals the sftware can for example select different antennas or filters, depending on frequency. This interface also provides a "mute" input, which allows the Colibri SDR to be integrated into a HF transmiter station. The ExpertSDR2 software requires Windows XP,WIn7 or Win8 (32 and 64 bit variants), a version for Ubuntu x64 is also available and a version for Mac OS is announced for later availability.
The Colbri DDC SDR receiver has a 50 Ω SMA antenna input, the same connector as the (optional) external 10MHz clock source. An adaptor cable SMA to PL female is supplied. The required supply voltage is 5V DC, a wall plug power supply is included. The current consumption is approx. 700mA. The receiver case has a size of 64x24x112mm, the weight is 300g.
Technical Data Colibri DDC SDR
Frequency Range9 kHz – 55MHz
Bandscope (Panorama)62.5MHz
Independant Receivers2
Spectrum width per receiver39, 78, 156 or 312 kHz
ADC width, Sample rate14 Bit, 125 MS/s
Blocking Dynamic Range110 dB
IMD3 Dynamic Range90 dB
I/Q Image Rejection> 110 dB
Internal TXCO20MHz, ±0.5ppm
External 10MHz Clock sourceYes
Audio output (headphones)Yes
Attenuator0 dB, 20 dB
Input FilterLow Pass 55MHz
Additional audio output (headphones)32 Ω, 30mW
Operating Voltage5V ± 10%
Current consumptionca. 700mA
LAN InterfaceRJ-45, 10/100/1000MBits/s [1], MDI/MDI-X supported
IP V4DHCP-Server, Client, static IP address
Size64 x 24 x 112 mm
Weight300 g
Our Price Match Promise means that if you find any of our Equipment at a lower advertised price elsewhere, we will match the price for you, subject to the below.
The product is identical to ours in brand, colour, size and model number.
The price must be the advertised price clearly on the competitor's online site.
The item must be in stock and available for immediate purchase (rather than available to order), with the authorised stockist able to complete delivery within 2-3 days.
Please fill out the form below. The details will be used to help us with your price promise request.
Others who viewed this item WERE ALSO INTERESTED IN...