Elad fdm-duo r sdr multimode receiver
£0.00
(

£0.00

exc. VAT)
£759.95
(

£633.29

exc. VAT)
Finance Available
Radioworld now offer finance through our partners Close Brothers.
Add the item to your basket in the normal way and at checkout choose to make payment via Finance. You'll then be taken through to our partners Pay4Later to make your finance application.
| Item Cost | Finance Option | Deposit | Monthly Payments | Total Cost |
| --- | --- | --- | --- | --- |
| £759.95 | 12 Months 14.9% APR | £75.99 | £65.49 | £861.86 |
| £759.95 | 18 Months 14.9% APR | £75.99 | £43.66 | £861.86 |
| £759.95 | 24 Months 14.9% APR | £75.99 | £32.74 | £861.86 |
| £759.95 | 36 Months 14.9% APR | £75.99 | £21.83 | £861.86 |
| £759.95 | 48 Months 14.9% APR | £75.99 | £16.37 | £861.86 |
| £759.95 | 12 Months 19.5% APR | £75.99 | £68.11 | £893.32 |
| £759.95 | 18 Months 19.5% APR | £75.99 | £45.41 | £893.32 |
| £759.95 | 24 Months 19.5% APR | £75.99 | £34.06 | £893.32 |
| £759.95 | 36 Months 19.5% APR | £75.99 | £22.70 | £893.32 |
| £759.95 | 48 Months 19.5% APR | £75.99 | £17.03 | £893.32 |
Recommend a friend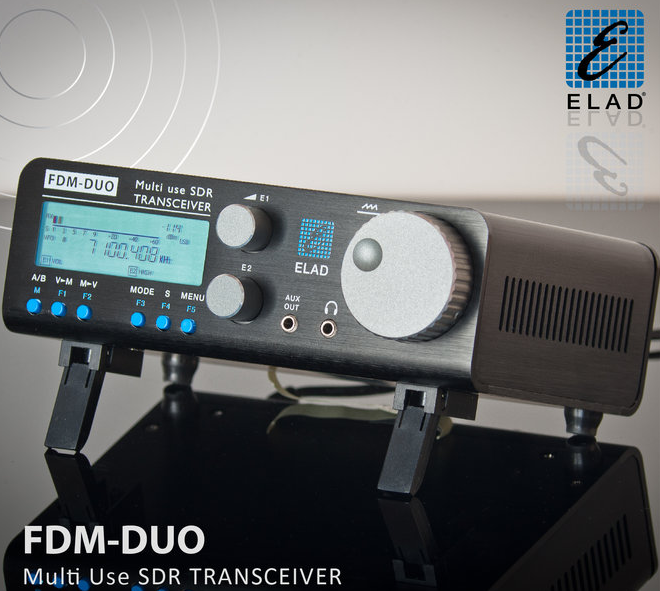 Elad fdm-duo r sdr multimode receiver
ELAD FDM-DUO R SDR Multimode Receiver, After the great success of the FDM-DUO transceiver the manufacturer now offers the "R" as a receiver — as to be expected by Elad in a sleek italian design and equipped with top-notch technology.
The FDM-DUO-R is a shortwave receiver which uses state-of-the-art SDR technology, but which can be used like a traditional radio. Familiar operating controls like a large VFO knob, dials for volume, filters and other functions as well as pushbuttons for often used settings lend the FDM-DUO-R an ease of use like a classical receiver. Inner values like a fast AD converter and powerful digital processing capabilities are the basis for excellent reception capabilities, like they are known from the FDM-S2 and FDM-DUO.
A very interesting of the FDM-DUO-R receiver innovation are 10 slots for pre-selector boards, which can be populated by the user as needed. Elad offers various high-pass and band-pass filters, for example to suppress nearby medium wave radio stations. Band-pass filters are available for the amateur radio bands and help to achieve excellent large signal handling capabilities, suitable even for contest stations. And users demanding even more flexibility can use two empty boards to design their own filters perfectly matched to their needs. By using a clever combination of the two antenna inputs, attenuators, the standard 54 MHz low pass filter and the switchable ten pre-selector positions the receiver design offers a lot of possibilities for individual tuning.
The receive frequency range is from 10 kHz to 54 MHz [1]. The two antenna inputs are selected by programmable band edges, so the the right antenna and filter module is selected depending on the frequency. A TCXO is used for good frequency stability, the side band noise of the oscillator is a very low -130 to -136dBc, resulting in a low noise floor and excellent sensitivity. Alternatively an external 10 MHz precision clock reference can be used as master clock. Depending on how the FDM-DUO-R is used - with our without computer - different operating modes are available: without computer USB, LSB, CW, AM and FM, with computer additionally WFM and DRM can be received. DRM is available with the supplied software, no complicated installation of additional software is needed.
The nice thing about the FDM-DUO-R is, that it can be used with or without a computer. Without computer the receiver is an excellent companion for the demanding SWL, even when going portable during a vacation. And when working together with a computer the FDM-DUO-R offers state-of-the-art SDR capabilities like a waterfall display, decoding, recording and much more. The supplied FDM-SW2 software allows the operation of up to 4 receivers at the same time. The manufacturer also supplies an "ExtIO" DLL program, which is required to use the receiver with other software like SDR#, HDSDR, SDR-Radio and more.
Further hardware features of the FDM-DUO-R are worthy of professional radios. The precision clock iput was already mentioned. A USB CAT interfave allows remote control with the right software, the CAT protocol is fully documented. A "Mute" input stops the receiver when a nearby transmitter is keyed, providing seamless integration into an existing amateur radio station. The 9 pin extension port is compatible with the existing extension boards by Elad. Connections for headphones and line out are provided. The receiver requires a 13.8V DC supply, max. current intake is approx. 500 mA.
Technical Data
FDM-DUO-R
Frequency Range Rx10 kHz - 54 MHz RX direct sampling [1]
Connector2 x PL
External CLock Input10MHz, SMA
Modes (Stand-Alone, without computer)CW, USB, LSB, AM, FM
Modes (with computer)CW, USB, LSB, AM, S-AM, FM, WFM, DRM
AD Converter16 Bit
ADC clock122.8 MHz
Phase noise-136dBc @100kHz, -130dBc @10kHz
CATUSB 2.0
I/Q outputUSB 2.0
Weightca. 1200 g
Dimensions180 × 155 × 70 mm
[1] The frequency range covers VHF from 76–108 and 136–160 MHz, just like the FDM-S2. To use the VHF ranges a special filter is required
Our Price Match Promise means that if you find any of our Equipment at a lower advertised price elsewhere, we will match the price for you, subject to the below.
The product is identical to ours in brand, colour, size and model number.
The price must be the advertised price clearly on the competitor's online site.
The item must be in stock and available for immediate purchase (rather than available to order), with the authorised stockist able to complete delivery within 2-3 days.
Please fill out the form below. The details will be used to help us with your price promise request.
Others who viewed this item WERE ALSO INTERESTED IN...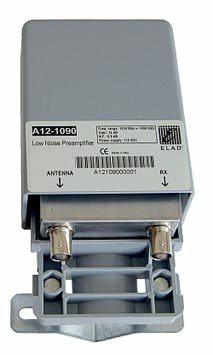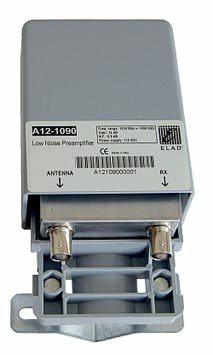 The A12-1090 is a pre-amplifier designed especially for any of the Real-Time Virtual Radar products. The Mast Head Pre-amp amplifier increases the ran...
£179.95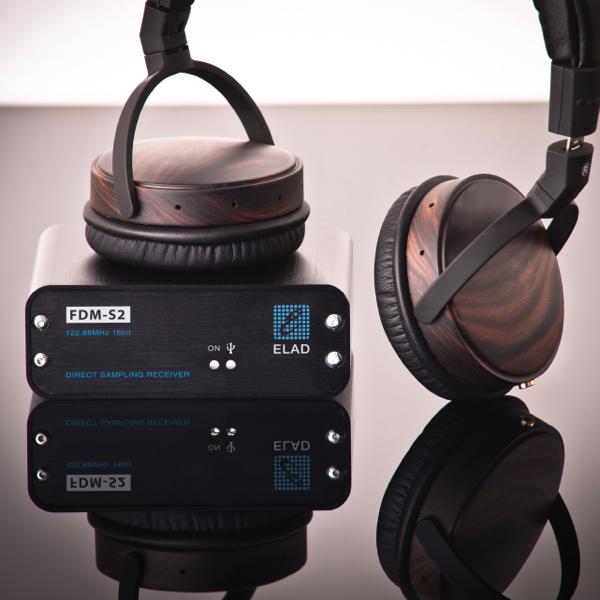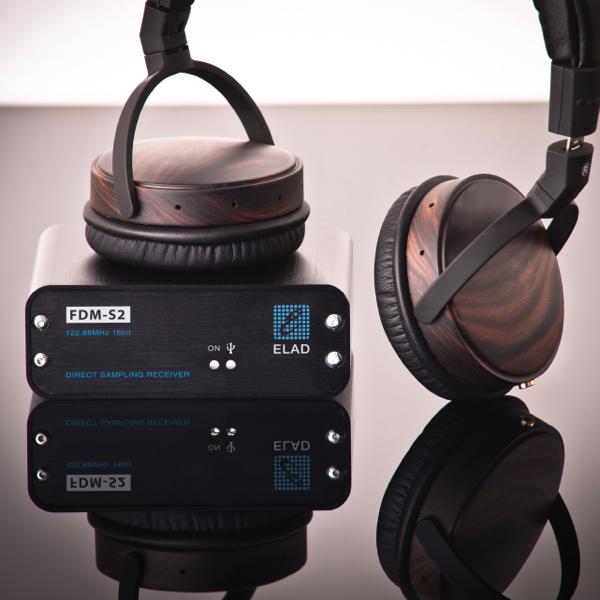 FDM-S2 is the second device born in our line ELAD SDR Samplers.Direct sampling receiver based on 122.88MHz 16bit single channel ADC converter covering...
£449.95