HYT TC-700
£0.00
(

£0.00

exc. VAT)
£199.00
(

£165.83

exc. VAT)
Finance Available
Radioworld now offer finance through our partners Close Brothers.
Add the item to your basket in the normal way and at checkout choose to make payment via Finance. You'll then be taken through to our partners Pay4Later to make your finance application.
| Item Cost | Finance Option | Deposit | Monthly Payments | Total Cost |
| --- | --- | --- | --- | --- |
| £199.00 | 12 Months 14.9% APR | £19.90 | £17.15 | £225.68 |
| £199.00 | 18 Months 14.9% APR | £19.90 | £11.43 | £225.68 |
| £199.00 | 24 Months 14.9% APR | £19.90 | £8.57 | £225.68 |
| £199.00 | 36 Months 14.9% APR | £19.90 | £5.72 | £225.68 |
| £199.00 | 48 Months 14.9% APR | £19.90 | £4.29 | £225.68 |
| £199.00 | 12 Months 19.5% APR | £19.90 | £17.84 | £233.92 |
| £199.00 | 18 Months 19.5% APR | £19.90 | £11.89 | £233.92 |
| £199.00 | 24 Months 19.5% APR | £19.90 | £8.92 | £233.92 |
| £199.00 | 36 Months 19.5% APR | £19.90 | £5.95 | £233.92 |
| £199.00 | 48 Months 19.5% APR | £19.90 | £4.46 | £233.92 |
HYT TC-700 Ultra Rugged Feature Rich Private Business Radio

** Available in VHF or UHF - Please specify which model you wish to purchase upon ordering. **

Theaddition to the fabulous HYT range is the feature rich TC-700 radio. Available in VHF and UHF it is the ultimate 16 channel handheld Two Way Radio. Up to date styling, ultra robust and its compact size make it a superb all round radio for the office or building site. HYT have already established themselves as a high quality two way radio suppliers and are now at the front of private business radio (PBR) manufacturing industry. TC-700 has all the expected features of an up to date business walkie talkie and many more to. Despite all of these useful features TC-700 is incredible affordable, making it the lowest cost feature rich two way radio (PBR) on the market today.

Key features include :
BUILT-IN SCRAMBLER - The feature assures your communication enhanced privacy and provides a more secure communications network.
SPEAKER VOLUME - High Speaker Volume, Large 40mm speaker, delivering maximum 1W of audio output for robust clarity in harsh, noisy environments.
LONE WORKER - The feature provides enhanced security for individuals who are on remote work sites from their team. Radio will sound an alert tone at the preset time. User must press a key to reset the timer (indicating the user is safe). Otherwise, the radio will automatically enter emergency mode.
MAN DOWN OPTIONAL- In man down mode, the radio will automatically enter emergency alert mode if horizontally or inversely positioned after the preset time elapses. Place the radio vertically to disable the emergency alert feature.
SAFETY CHECK POWER ON SELF-TEST - When this function is enabled the radio will emit an alert tone when it receives a safety check signal. Press any key to reset the radio and indicate the user is safe; If no acknowledgment is received the radio will automatically enter emergency mode.
POWER ON SELF-TEST - An indicating tone corresponds to the radio status. (e.g. CPU error EEPROM error), the feature enables you to detect faults quickly and efficiently.
EMBEDDED MESSAGE & SERIAL NUMBER - The radio's memory can store electronic messages including service and programming records, etc, remarkable ease of maintenance and service, making a unit electronically identifiable by serial number.
EMERGENCY - The feature enables the radio to emit emergency alarm, or send ENI (Emergency Number Identity) / background tone to companions or system.
COMMUNICATION RANGE ALERT - The radio will automatically emit an alert tone if user is out of the communication range, a helpful feature in highly demanding communications environments, such as climbing, exploration, and rescue work.
WHISPER - This feature enables you to be clearly heard even if you speak quietly.
CHANNEL ANNUNCIATION - The feature enables radio report the current channel number when switching power on or changing channel which is very useful at night.

Other features include:
MEETS MIL-STD-810 C/D/E/F & IP54
25/20/12.5KHZ CHANNEL SPACING
HIGH/MED/LOW POWER OUTPUT
2-TONE /5-TONE ENCODE & DECODE
DTMF ENCODE
CTCSS/CDCSS
3 PROGRAMMABLE FUNCTION KEYS
STUN/KILL & REVIVE
DUAL PRIORITY SCAN
BATTERY POWER INDICATOR
BATTERY SAVE
LOW BATTERY ALERT
MSK WIRELESS CLONE
Priority Scanning :
Channel scanning provides users with an easy way to monitor multiple channels for activity. Priority scan enables the radio to automatically check for activity on an important main channel during the channel scan sequence and while receiving a call on another non-priority channel.

Specifications General
Power output maximum 5 watts VHF - 4 watts UHF
Channel capacity 16 (15 + S)
Channel Spacing 25KHz/12.5KHz
Power Supply 7.5V/DC
Battery - Li-Ion, 1700mAh
Battery Life (5-5-90 duty cycle) - 14 hours Dimensions 54 (W)x114(H)x34(D)mm
Weight (Net)
Others who viewed this item WERE ALSO INTERESTED IN...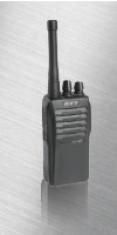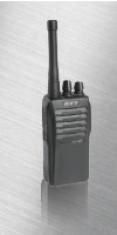 HYT TC600 The combination of advance performance and cost-effective productivity make the TC-600 a strong option for growing business organization, ...
£163.25


HYT TC-265 & TC-365 Rugged Private Business Radio TheTC-265 (VHF) and TC-365 (UHF) from HYT is the ultimate in handheld Two Way Radios. It has st...
£233.72