W2ihy ibox audio interface - interfacing within the audio chain
£0.00
(

£0.00

exc. VAT)
£89.95
(

£74.96

exc. VAT)
Fast uk delivery
Worldwide delivery
Finance Available
Radioworld now offer finance through our partners Close Brothers.
Add the item to your basket in the normal way and at checkout choose to make payment via Finance. You'll then be taken through to our partners Pay4Later to make your finance application.
| Item Cost | Finance Option | Deposit | Monthly Payments | Total Cost |
| --- | --- | --- | --- | --- |
| £89.95 | 12 Months 14.9% APR | £9.00 | £7.75 | £102.01 |
| £89.95 | 18 Months 14.9% APR | £9.00 | £5.17 | £102.01 |
| £89.95 | 24 Months 14.9% APR | £9.00 | £3.88 | £102.01 |
| £89.95 | 36 Months 14.9% APR | £9.00 | £2.58 | £102.01 |
| £89.95 | 48 Months 14.9% APR | £9.00 | £1.94 | £102.01 |
| £89.95 | 12 Months 19.5% APR | £9.00 | £8.06 | £105.74 |
| £89.95 | 18 Months 19.5% APR | £9.00 | £5.37 | £105.74 |
| £89.95 | 24 Months 19.5% APR | £9.00 | £4.03 | £105.74 |
| £89.95 | 36 Months 19.5% APR | £9.00 | £2.69 | £105.74 |
| £89.95 | 48 Months 19.5% APR | £9.00 | £2.02 | £105.74 |
Recommend a friend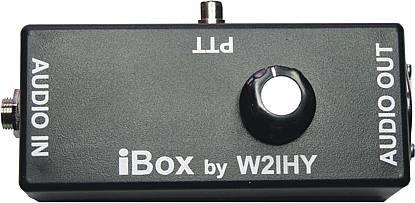 W2ihy ibox audio interface - interfacing within the audio chain
W2IHY iBox is a versatile accessory for amateurs who are serious about their audio.
To know this little black box is to love it. It performs the tasks of several different pieces of equipment, giving you a zillion interfacing options to make all of your ham shack audio dreams come true. • Use iBox to interface external audio devices to your radio equipment. Wideband frequency throughput. Modern and classic transmitters supported.
• Rack Users: iBox is the solution for component-to-component interfacing within the audio chain. Any number of iBox units may be used for clean multi-stage signal routing.
• Adjust the continuously variable attenuator to achieve a precise audio level match for sweet sound.
• Isolate your audio from ugly hum caused by ground loops/stray fields.
• Isolate your audio from RF with effective RFI protection on both the input and output.
• Achieve optimum impedance match. Low-Z to Low-Z ... or ... Low-Z to Hi-Z.
• Interface any combination of balanced and unbalanced audio gear.
• Extensive input and output cable wiring options give you incredible versatility in real-world applications. Wiring documentation included.
• Optional custom-made cables are available for your specific requirements.
• Convenient PTT jack
Introduction
In a perfect world, audio signals would cheerfully stream around the shack, up and down the rack, and arrive in pristine condition at the transmitter, ready to make you proud. But real-world line level and mic level audio signals say to their buddies "Hey, it's ugly out there, don't make me go." The ugly gremlin list includes:
• Hum that barges in with an arrogant attitude saying "I'm here, deal with it." Whether from ground loops or induced fields, all hum is equally unwelcome and doesn't care.
• Level discrepancies take pleasure in confounding well-meaning inputs and outputs. They intentionally make signal levels too light or too heavy, whichever creates maximum inconvenience for you, the radio guy.
• Impedance mismatches have a good day when they upset level match, turning system gain into system migraine. On their finest days, mismatches also introduce phase distortion, causing previously well-shaped audio to barely recognize its new figure.
• RF might be the ugliest gremlin of all. RF considers itself more important than audio, perhaps because it knows more ways to travel. RF loves to get rectified and go along for the ride with the innocent audio signal. When amateur radio transmitters join forces with additional RF-generating devices in the shack, it's party time.
If one or more of those horror stories sound familiar, you're ready for iBox by W2IHY.
Better Audio And Happier Hams, Thanks To iBox
W2IHY Technologies designed iBox at the request of amateurs using studio audio equipment and needing a more versatile way to Level Match, RF Isolate, Audio Isolate, Impedance Match, and PTT Control. iBox gives you a professionally built solution that doesn't waste your time or your money. And like all W2IHY products, iBox is made specifically for amateur radio use.
Building iBox for hams means building it for the sometimes "hot" RF conditions found in ham shacks. With extensive RFI rejection circuitry on both the input and the output, iBox means business. iBox will keep your audio clean in RF fields that clobber unprotected transformers and interface boxes from competitors.
The continuously variable audio attenuator makes iBox ideal for use between audio components and/or as the final interface to your radio equipment. Optimize line-level signals instantly. Adjust mic level signals for the perfect drive to your radio's mic circuit, whether Low-Z or Hi-Z. And do it all with industrial-strength isolation from those ugly gremlins.
But How Does This Bad Boy SOUND?
It sounds just the way you want it to sound. Dead silence when there's no signal. Delicious, clean, wideband throughput when you're making audio magic. Note that iBox is a passive device by design. No added noise or signal coloration allowed. In a perfect world, the perfect audio interface would be totally transparent. Hmmm, maybe the world just became perfect. At least this little corner of it. Just to be sure, try iBox in your world. We're so confident you will be delighted, iBox is backed with a 30 Day No Questions Asked Money Back Guarantee.
Variable Attenuator. A Power Tool For Great Audio
This friendly knob plays a major role in iBox's versatility. It's the continuously variable attenuation control. Here's what it's going to do for you: In the fully counterclockwise position, attenuation is at maximum. A line-level signal entering iBox will exit as a mic level signal. In this mode, iBox works wonders as the interface to your transmitter microphone input. Small tweaks with the knob let you establish just the right amount of audio drive. Transmitters respond favorably to that and reward you richly.
Move the knob fully clockwise for minimum attenuation and iBox becomes a different tool. Now it is a line-level interface. The value of this is abundantly clear to everyone who has ever cascaded multiple components to build an audio chain. In theory, the output of one device is patched to the input of another and all units co-exist in peaceful harmony. In actual application, some patches might perform perfectly while others protest with perplexing glitches that refuse to go away despite good engineering practices on your part. Place iBox between the uncooperative devices and you have just applied 4 simultaneous and powerful solutions: Audio Isolate, RF Isolate, Impedance Match, Level Match. Particularly troublesome situations might require iBoxes at multiple points in the chain. If you end up with more units than you needed, 
If you are using a "back feed" option to your radio's balanced modulator or DSP, run iBox inline-level mode and tweak the attenuation control for an optimum drive.
Inputs and Outputs Galore
With iBox, your audio boldly travels more paths with can-do confidence. Coming and going iBox has got you covered.
Gozinta (Input)
The 600-ohm iBox audio input is a 1/4" stereo jack also known as a Tip-Ring-Sleeve jack (TRS). Ready availability, simplicity, and low cost are reasons pro audio manufacturers keep jumping on the TRS bandwagon.
Did we mention iBox is versatile? Look what you can do here on the input side, with simple changes to TRS plug wiring:
• Accept Balanced Source and run iBox as a Balanced Input.
• Convert a Balanced Source to an Unbalanced Input to iBox.
• Accept an Unbalanced Source and run iBox input Unbalanced.
Gozoutta (Output)
Lots of cool things are happening on the output side of iBox, too. We're using a 5 pin DIN connector because all 5 pins have something good wired to them.
The same smart design that gives so much versatility on the input is at work again on the output. Simply configure DIN plug wiring to obtain:
• Low-Z Balanced Output.
• Hi-Z Balanced Output.
• Low-Z Unbalanced Output.


With all these output options, even the most obscure audio input will think iBox was made just for it. And you can always tweak the attenuator to make iBox output levels a welcome friend to the transmitter or audio device that follows.
The iBox output system also includes Push To Talk (PTT) transmitter control. This RCA PTT input jack offers a convenient access point for your switch.
Cables
Review the Operating Manual and you'll see a great deal of documentation for cable wiring and audio plug compatibility. Locate the configuration you need and follow the clear drawings. Or, if you prefer, tell us what you need and we'll custom-make as many cables as you require.
If you are already using mic cables made for W2IHY EQs, you'll be glad to know that iBox follows identical conventions for output-to-radio wiring. So, the cables are fully interchangeable.
Our Price Match Promise means that if you find any of our Equipment at a lower advertised price elsewhere, we will match the price for you, subject to the below.
The product is identical to ours in brand, colour, size and model number.
The price must be the advertised price clearly on the competitor's online site.
The item must be in stock and available for immediate purchase (rather than available to order), with the authorised stockist able to complete delivery within 2-3 days.
Please fill out the form below. The details will be used to help us with your price promise request.
Others who viewed this item WERE ALSO INTERESTED IN...