icom IC-F3162S UHF advanced handheld radio (no keypad)
£0.00
(

£0.00

exc. VAT)
£439.09
(

£365.91

exc. VAT)
Finance Available
Radioworld now offer finance through our partners Close Brothers.
Add the item to your basket in the normal way and at checkout choose to make payment via Finance. You'll then be taken through to our partners Pay4Later to make your finance application.
| Item Cost | Finance Option | Deposit | Monthly Payments | Total Cost |
| --- | --- | --- | --- | --- |
| £439.09 | 12 Months 14.9% APR | £43.91 | £37.84 | £497.97 |
| £439.09 | 18 Months 14.9% APR | £43.91 | £25.23 | £497.97 |
| £439.09 | 24 Months 14.9% APR | £43.91 | £18.92 | £497.97 |
| £439.09 | 36 Months 14.9% APR | £43.91 | £12.61 | £497.97 |
| £439.09 | 48 Months 14.9% APR | £43.91 | £9.46 | £497.97 |
| £439.09 | 12 Months 19.5% APR | £43.91 | £39.35 | £516.15 |
| £439.09 | 18 Months 19.5% APR | £43.91 | £26.24 | £516.15 |
| £439.09 | 24 Months 19.5% APR | £43.91 | £19.68 | £516.15 |
| £439.09 | 36 Months 19.5% APR | £43.91 | £13.12 | £516.15 |
| £439.09 | 48 Months 19.5% APR | £43.91 | £9.84 | £516.15 |
Designed for serious business use, the IC-F3162/F4162 VHF/UHF advanced handheld transceiver series includes the latest digital technology with the optional UT-126H "IDAS" 6.25kHz digital unit. While the IC-F3162 series looks the same its IC-F3062 predecessor, its functions and features have been upgraded. Together with the newly enhanced IC-F5062 digital mobile series and the IC-FR5100/IC-FR6100 digital repeater series can become an integral part of a sophisticated digital network.

4 versions available
IC-F3162S VHF transceiver, 5W, without keypad
IC-F3162T VHF transceiver, 5W, with keypad
IC-F4162S UHF transceiver, 5W, without keypad
IC-F4162T UHF transceiver, 5W, with keypad
IDAS 6.25kHz digital functions upgraded

With the UT-126H digital unit, the following digital functions are available:
Digital/analogue mixed mode operation
Digital/analogue mixed mode scan
Up to 64 RAN (Radio Access Number) settings for digital code squelch
Individual, Talkgroup and All Call
Data call (12-characters)
Status message/request
Digital Encryption using 15-bit encryption key
Call alert
Radio check
Radio stun/kill/revive
Remote monitor
Emergency call
Simultaneous GPS position report with voice call
Improved voting function
Operating modes such as conventional mode and voting mode are programmed according to the memory zone. Once you program the voting mode to a memory zone, you can easily start voting mode operation by changing the zone setting.
Voting group name and voted channel name indication
Re-vote after talk function ... Automatically restart vote scanning when a call is finished.
Lone worker function
The lone worker function is a substitute for the man down function. When the radio is not operated for a preset period (1 to 255 minutes), the radio sounds a beep requiring you to push any button. If a button is not pressed, an emergency signal is automatically transmitted and informs co-workers or a dispatcher that something may have happened to the individual worker.

Enhanced Scanning features
scanning features have been added allowing migration from other radio brands.
Mode dependent scan ... when the user changes the operating channel, the scanning list automatically changes following that channel setting.
Tx channel programmable ... The Tx channel is the channel the radio transmits when the user pushes the PTT button while scanning. The Tx channel can be programmable per scanning list from start, last detected, priority and pre-programmed channels.
Talk back function ... allows you to transmit on the detected channel when scanning stops or soon after scanning resumes, prior to the Tx channel setting.
Talk back timer beep ... alerts you of the end of the talk back time with a beep sound.
Nuisance delete ... Users can temporary skip a busy channel from the scanning list.
Monitor key action ...A user can stop a scan when pushing the monitor button.
features
Direct input of the Tx code (5-Tone), Individual/Talkgroup ID (Digital), Status number (BIIS/Digital), Message number (Digital) from the 10-key pad
Escalating alarm
Shares same cloning software, CS-F3160/F5060 as mobile
Stun revive function (5-Tone)
Programmable emergency button for a third party microphone
GPS position reporting function (BIIS/Digital mode) with optional HM-170GP
Improved low battery beep (Tx end function and beep periods programmable)
Retained Features (From IC-F3062 series)
Full dot-matrix LCD

The IC-F3162 series has an easy to read, large full dot-matrix LCD (32 x18 mm), that shows upper and lower case characters clearly. The display setting is selectable from 1 line, 12 characters or 2 lines 24 characters via programming. While status icons are on the top side of the display, the bottom side shows assigned functions to the [P0] to [P3] buttons.

Large capacity Lithium-Ion battery pack
The supplied BP-232N 2000mAh large Li-Ion battery pack, provides 15 hours* of operating time (analogue/digital modes). * Typical operation Tx:Rx: Standby=5:5:90

Voice scrambler function
The IC-F3162 series has a built-in inversion type voice scrambler as standard. By installing an optional voice scrambler unit, UT-109R or UT-110R, more secure communication can be possible.

BTL amplifier
The IC-F3162 series employs a BTL amplifier that doubles the audio output delivering loud and clear sound.

512 memory channels and rotary channel knob
The IC-F3162 series has 512 programmable channels with 128 zones. With a simple rotation of the rotary channel knob, memory channels can be selected.

Most popular signalling built-in
The IC-F3162 series has 2-Tone, 5-Tone, CTCSS and DTCS signalling capabilities as standard for group communication or selective calling. The IC-F3162 series can decode ten 2-Tone codes or eight 5-Tone codes on a channel. When a matched tone is received, various actions are programmable for each code such as beep sounds, bell icons, answer back calls, Auto TX, stun/kill radio, scans etc. 40 pairs of CTCSS/DTCS memory channels are also available.
IC-F3162/F4162 Series Additional Features
Built-in audio compander
Flash CPU for future firmware updates
Surveillance function temporarily turns off the LED backlight and beep sound
VOX ready for hands-free operation
Embedded ESN (Electronic serial number)
Others who viewed this item WERE ALSO INTERESTED IN...


The IC-F29SR is the latest professional Licence Free Two Way Radio from Icom and retains the simplicity, functionality and build that made its predece...
£159.95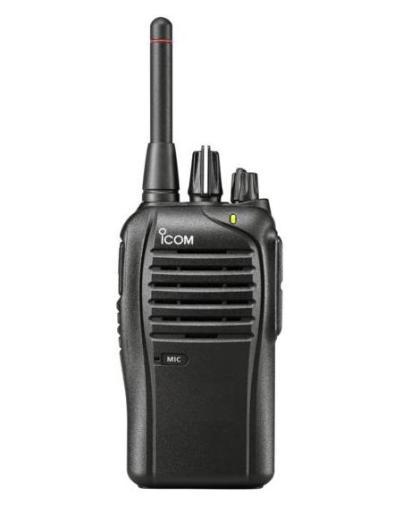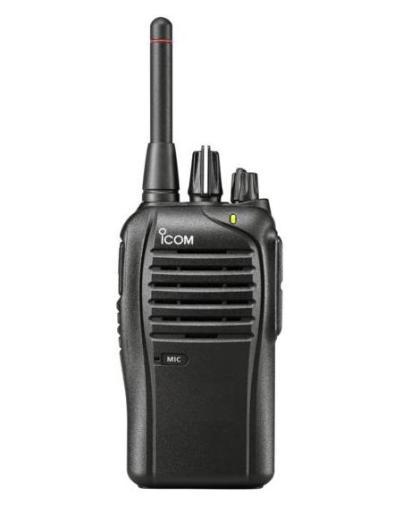 The IC-F27SR professional Licence Free Two Way Radio is the successor to the best selling IC-F25SR and retains the simplicity, functionality and build...
£158.99


Icom IC-F4029SDR - First in the market, professional digital licence free radio, A Path from analogue PMR 446 to digital PMR 446 in one unit Fantastic...
£199.96