kenwood TM-V71E - VHF/UHF Mobile Transceiver.
£0.00
(

£0.00

exc. VAT)
£374.95
(

£312.46

exc. VAT)
Finance Available
Radioworld now offer finance through our partners Close Brothers.
Add the item to your basket in the normal way and at checkout choose to make payment via Finance. You'll then be taken through to our partners Pay4Later to make your finance application.
| Item Cost | Finance Option | Deposit | Monthly Payments | Total Cost |
| --- | --- | --- | --- | --- |
| £374.95 | 12 Months 14.9% APR | £37.50 | £32.31 | £425.23 |
| £374.95 | 18 Months 14.9% APR | £37.50 | £21.54 | £425.23 |
| £374.95 | 24 Months 14.9% APR | £37.50 | £16.16 | £425.23 |
| £374.95 | 36 Months 14.9% APR | £37.50 | £10.77 | £425.23 |
| £374.95 | 48 Months 14.9% APR | £37.50 | £8.08 | £425.23 |
| £374.95 | 12 Months 19.5% APR | £37.50 | £33.61 | £440.76 |
| £374.95 | 18 Months 19.5% APR | £37.50 | £22.40 | £440.76 |
| £374.95 | 24 Months 19.5% APR | £37.50 | £16.80 | £440.76 |
| £374.95 | 36 Months 19.5% APR | £37.50 | £11.20 | £440.76 |
| £374.95 | 48 Months 19.5% APR | £37.50 | £8.40 | £440.76 |
The TM-V71E provides an impressive 50 watts of RF power on both VHF & UHF, with a choice of High/Mid/Low settings.Dual Receive on Same Band (VxV, UxU, VxU)
In addition to simultaneous receive on VHF and UHF bands, the TM-V71E can receive two frequencies on the same band (VxV, UxU). Green & Amber Colour Display
To maximize visibility, the backlight colour of the large LCD display can be switched between green and amber. Detachable Front Panel
For greater installation convenience the front panel of TM-V71E can be mounted separately, using the optional DFK-3D.

Invertible Front Panel
The front panel can be inverted, so that the transceiver body can be mounted with its internal loudspeaker in the optimum position.

Programmable Memory
For extra versatility, the TM-V71E has a programmable memory that can store five entire operating profiles, ready for instant recall at the push of a button. Each profile includes such settings as display mode, frequency range and memory mode.

1,000 Memory Channels
There are 1,000 split memory channels for storing essential data, such as transmit and receive frequencies, frequency step and tone frequency. Each channel can be identified with a 6-digit alphanumeric memory name. The memory data can be edited and stored on a PC, using the optional PG-5G interface cable and MCP-2A memory control software.

Multiple Scan
As well as VFO scan, programmable scan, MHz scan, memory scan and call scan, the TM-V71E offers memory bank scan. The 1,000 channels can be grouped into 10 banks for selective scanning. Scan resume (time-operated, carrier-operated and seek), memory channel lockout, tone scan, CTCSS scan and DCS scan functions are built-in.

Built-in CTCSS/DCS
The TM-V71E is equipped with analogue CTCSS (42 subtone frequencies) and digital DCS (104 codes) in addition to UK 1750Hz access tone.

EchoLink® Memory
Up to 10 EchoLink® memory stations can be stored using call signs (max. 8 alphanumeric characters). You can easily access an Echolink node terminal without having to use a call sign.

EchoLink® NODE TERMINAL Operation
When the TM-V71E is connected to a PC (with the necessary software installed) usinig the optional PG-5H, it can operate as a node terminal for Echolink® access.

Other Features
Menu System
Wide Band Reception : 118-524MHz & 800-1300MHz as standard
Separate VOL/SQL for A and B Bands
6-Pin Mini-DIN connector for External TNC
8-Pin Mini-DIN connector for PC connection
Programmable Function Keys
Band Mask (Mask unused band)
Call Channel
S-meter Squelch & Hysteresis Timer
Monitor Function
Audio Mute & Hang-up Timer
Automatic Power Off (up to 3-hours)
MHz Mode
Selectable Frequency Step
Shift Function
Repeater Offset (selectable)
Automatic Repeater Offset (On/Off, VHF only)
Reverse Function
DTMF Memory (10 channels, 16 digits)
Time-Out Timer
Key Lock
Power-on Password Protection
Memory Shift
Programmable VFO
Beep On/Off, Volume Control
Microphone program Function
Channel Display Mode
Power-On Message
LCD Brightness Control, Automatic Dimmer
Switch to External Speaker
Reset (VFO, PART, PM, FULL)
Cross Band Repeater Function (Dealer Modification)
DTMF Remote Control (available in Cross Band Repeater mode)
2. OPTIONAL ACCESSORIES,
KENWOOD VGS-1 Voice Guide & Storage Unit for TM--V71E
DFK-3D Quick-Release Detachable Front Panel Kit.
MC-59 16-Key Hand Microphone
MC-60A Desktop Microphone
MJ-88 Microphone Plug Adapter
PG-2N DC power Cable
PG-3B DC Line Noise Filter
PG-5A Data Cable
PG-5F Extension Cable Kit (4m)
PG-5G Programmable Interface Cable
PG-5H PC Interface Cable
PS-33 Power Supply (20.5A)
PS-53 Heavy Duty Power Supply (22.5A)
SP-50B External Speaker

2. SUPPLIED ACCESSORIES
16-Key Hand Microphone (MC-59)
Mounting Bracket
DC-Cable
Screw set & Fuses
Users Manual
Others who viewed this item WERE ALSO INTERESTED IN...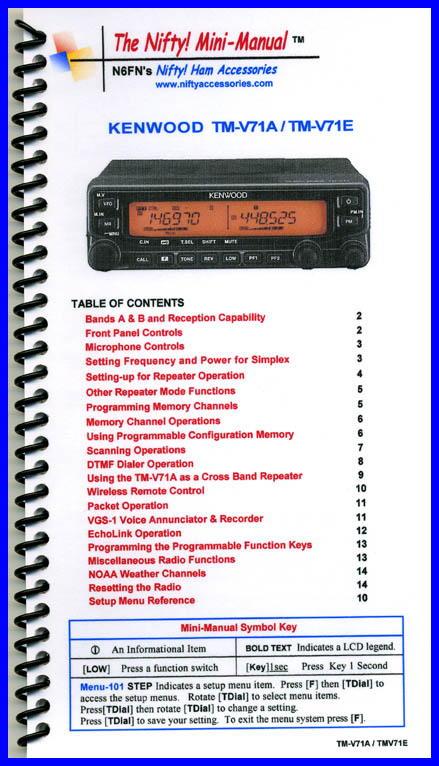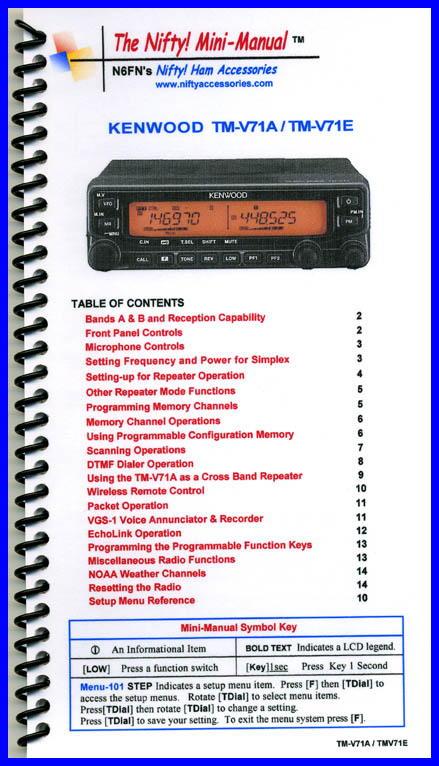 Compact TM-V71A /E Mini-manual. Covers both USA and Euro versions of the radio. Size, 4.5x8 inches. Sixteen high-quality laminated pages, loaded with ...
£18.98