MFJ-259D most popular Antenna Analyzer
£0.00
(

£0.00

exc. VAT)
£449.95
(

£374.96

exc. VAT)
Fast uk delivery
Worldwide delivery
Finance Available
Radioworld now offer finance through our partners Close Brothers.
Add the item to your basket in the normal way and at checkout choose to make payment via Finance. You'll then be taken through to our partners Pay4Later to make your finance application.
| Item Cost | Finance Option | Deposit | Monthly Payments | Total Cost |
| --- | --- | --- | --- | --- |
| £449.95 | 12 Months 14.9% APR | £45.00 | £38.77 | £510.29 |
| £449.95 | 18 Months 14.9% APR | £45.00 | £25.85 | £510.29 |
| £449.95 | 24 Months 14.9% APR | £45.00 | £19.39 | £510.29 |
| £449.95 | 36 Months 14.9% APR | £45.00 | £12.92 | £510.29 |
| £449.95 | 48 Months 14.9% APR | £45.00 | £9.69 | £510.29 |
| £449.95 | 12 Months 19.5% APR | £45.00 | £40.33 | £528.92 |
| £449.95 | 18 Months 19.5% APR | £45.00 | £26.88 | £528.92 |
| £449.95 | 24 Months 19.5% APR | £45.00 | £20.16 | £528.92 |
| £449.95 | 36 Months 19.5% APR | £45.00 | £13.44 | £528.92 |
| £449.95 | 48 Months 19.5% APR | £45.00 | £10.08 | £528.92 |
Recommend a friend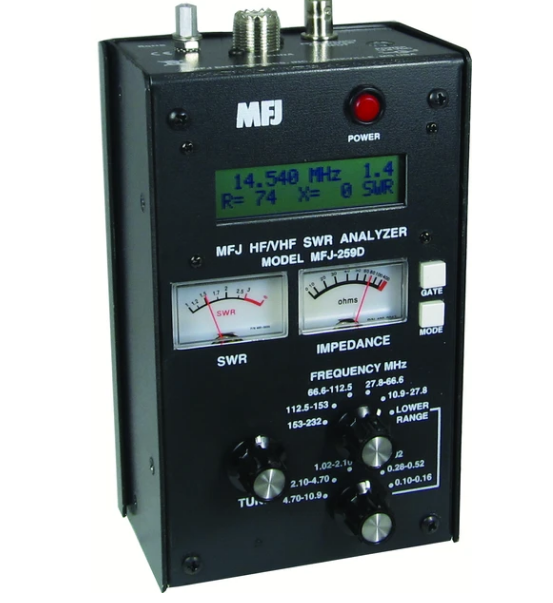 MFJ-259D most popular Antenna Analyzer
The MFJ-259D is the world's most popular Antenna Analyzer, now with an expanded frequency range of 100 kHz-230 MHz and 2200 Meter band. It is incredibly easy to use, just like your transceiver. The analyzer instantly displays SWR, complex antenna impedance, and frequency all at once, giving you a complete picture of your antenna. You can read SWR, return loss, and reflection coefficient at any frequency simultaneously. The analyzer also provides measurements of complex impedance as series resistance and reactance (R+jX) or as magnitude (Z) and phase (degrees). Additionally, it can determine velocity factor, coax cable loss in dB, length of coax, and distance to short or open in feet. It can measure inductance in uH and capacitance in pF at actual operating frequencies. 
This all-in-one ham radio test set includes a frequency counter, RF generator, SWR analyzer, RF resistance, reactance analyzer, coax analyzer, capacitance/inductance meter, and more. The large easy-to-read two-line LCD screen and side-by-side meters clearly display all the information you need. With this analyzer, you can find your antenna's true resonant frequency, trim dipoles and verticals for the lowest SWR at your favorite frequency, adjust your Yagi, quad, loop, and other antennas, and change antenna spacing and height. You can watch SWR, resistance, and reactance change instantly on the displays, which will guide you on what actions to take. 
This analyzer allows you to perfectly tune critical HF mobile antennas in seconds for super DX without subjecting your rig to high SWR. It also enables you to measure your antenna's 2:1 SWR bandwidth and analyze multiband performance. You can check SWR and outside ham bands without transmitting and violating FCC rules, and adjust your antenna tuner for a perfect 1:1 without creating QRM. It takes the guesswork out of building and adjusting matching networks, baluns, and antennas. You can accurately measure the distance to short or open in failed coax, measure coax length in feet, loss in dB, velocity factor, and impedance, and measure inductance and capacitance. The analyzer can also help troubleshoot resonant frequency, Q of traps, stubs, transmission lines, RF chokes, tuned circuits, and baluns. 
The MFJ-259D features a built-in Ni-MH/Ni-CD charger circuit, battery saver, low battery warning, and smooth reduction drive tuning. It can be powered by 10 AA or Ni-MH batteries (not included) or 110-240 VAC with the optional MFJ-1312D. The rugged, compact all-aluminum construction makes it handheld and measures 4Wx6¾Hx2D inches.
Our Price Match Promise means that if you find any of our Equipment at a lower advertised price elsewhere, we will match the price for you, subject to the below.
The product is identical to ours in brand, colour, size and model number.
The price must be the advertised price clearly on the competitor's online site.
The item must be in stock and available for immediate purchase (rather than available to order), with the authorised stockist able to complete delivery within 2-3 days.
Please fill out the form below. The details will be used to help us with your price promise request.
Others who viewed this item WERE ALSO INTERESTED IN...