Mfj-299 - deluxe desk top microphone and equalizer
£0.00
(

£0.00

exc. VAT)
£149.95
(

£124.96

exc. VAT)
Fast uk delivery
Worldwide delivery
Finance Available
Radioworld now offer finance through our partners Close Brothers.
Add the item to your basket in the normal way and at checkout choose to make payment via Finance. You'll then be taken through to our partners Pay4Later to make your finance application.
| Item Cost | Finance Option | Deposit | Monthly Payments | Total Cost |
| --- | --- | --- | --- | --- |
| £149.95 | 12 Months 14.9% APR | £15.00 | £12.92 | £170.06 |
| £149.95 | 18 Months 14.9% APR | £15.00 | £8.61 | £170.06 |
| £149.95 | 24 Months 14.9% APR | £15.00 | £6.46 | £170.06 |
| £149.95 | 36 Months 14.9% APR | £15.00 | £4.31 | £170.06 |
| £149.95 | 48 Months 14.9% APR | £15.00 | £3.23 | £170.06 |
| £149.95 | 12 Months 19.5% APR | £15.00 | £13.44 | £176.27 |
| £149.95 | 18 Months 19.5% APR | £15.00 | £8.96 | £176.27 |
| £149.95 | 24 Months 19.5% APR | £15.00 | £6.72 | £176.27 |
| £149.95 | 36 Months 19.5% APR | £15.00 | £4.48 | £176.27 |
| £149.95 | 48 Months 19.5% APR | £15.00 | £3.36 | £176.27 |
Recommend a friend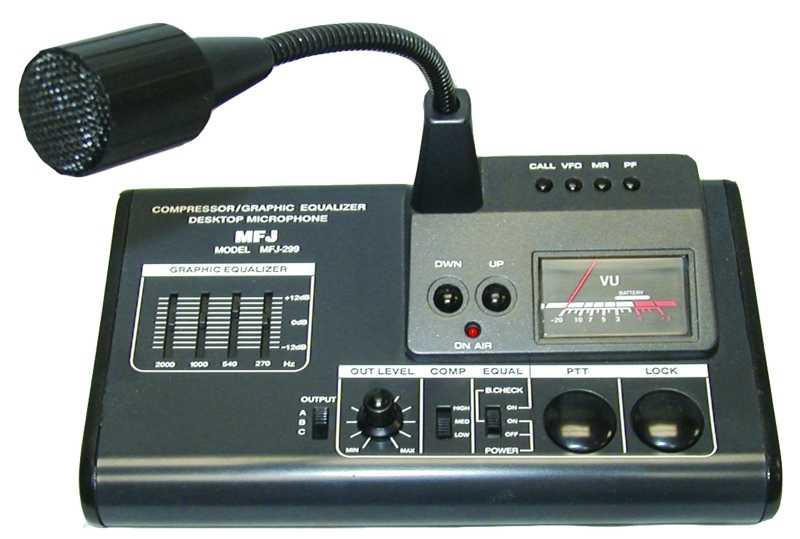 Mfj-299 - deluxe desk top microphone and equalizer
The MFJ-299 - Deluxe Desk Top Microphone and Equalizer. This is the most complete ham station desktop microphone console you'll ever own! The MFJ-299 Ham station Console Desktop microphone is enclosed in a heavy-duty all-metal cabinet with molded plastic end caps. Nice, secure rubber feet stay put on your table. All controls are permanently silk-screened and easy to read. Here are a few of the exciting features we think you will appreciate.
A high-sensitivity ceramic microphone element (10.5 inches with FlexNeck TM) bends and stretches to your most comfortable operating position. A fine mesh metal grill helps to eliminate background noise.
MFJ-299 has a high-quality compressor amplifier with high, medium, and low selection switches. It always sends out a constant and optimum level w without distortion, regardless of the audio input level. The high switch (45dB) is selected when you speak in a low voice or away from the microphone in a quiet place.

The medium switch (35dB) is the optimum position for a normal QSO. You can enjoy a QSO with enough voice level at 10 centimeters away from the microphone. The low switch (10dB) will activate only when the microphone has a large input level of audio. This is great for operating in a noisy area like at a HamFest talk-in station.
MFJ-299 is equipped with a built-in graphic equalizer with center frequencies of 270, 540, 1000, and 2000 Hz. It gives the best audio quality for FM mode and maximum efficiency for SSB mode.
Has an on-air indicator and an output level volume control. On-air blinks on and off when in receiving mode and will light up continuously when transmitting.
MFJ-299 is equipped with PTT momentary and PTT lock switches that allow you to switch between long one-sided QSOs and fast two-sided conversations. The frequency up/down switches let you operate your transceiver at your desktop microphone. Four function keys (CALL, VFO, MR, PF) are specifically for Kenwood transceivers only. An output level meter lets you adjust the output level to not exceed 0 dB. It also works as a battery checker for a few seconds, just after switching the power on.
A revolutionary triple radio input socket makes it super easy to install for any model transceiver: Icom, Yaesu, Kenwood, and compatible transceivers. It makes it easy to switch to several different radios, ie: field day, contests, base station, etc.
MFJ-299 has a built-in battery check circuit. It lets you press the power switch and the level meter will indicate the battery condition with power voltage for a few seconds.
Our Price Match Promise means that if you find any of our Equipment at a lower advertised price elsewhere, we will match the price for you, subject to the below.
The product is identical to ours in brand, colour, size and model number.
The price must be the advertised price clearly on the competitor's online site.
The item must be in stock and available for immediate purchase (rather than available to order), with the authorised stockist able to complete delivery within 2-3 days.
Please fill out the form below. The details will be used to help us with your price promise request.
Others who viewed this item WERE ALSO INTERESTED IN...