Sniper elite iii ps4
£0.00
(

£0.00

exc. VAT)
£40.00
(

£33.33

exc. VAT)
Fast uk delivery
Worldwide delivery
Finance Available
Radioworld now offer finance through our partners Close Brothers.
Add the item to your basket in the normal way and at checkout choose to make payment via Finance. You'll then be taken through to our partners Pay4Later to make your finance application.
| Item Cost | Finance Option | Deposit | Monthly Payments | Total Cost |
| --- | --- | --- | --- | --- |
| £40.00 | 12 Months 14.9% APR | £4.00 | £3.45 | £45.36 |
| £40.00 | 18 Months 14.9% APR | £4.00 | £2.30 | £45.36 |
| £40.00 | 24 Months 14.9% APR | £4.00 | £1.72 | £45.36 |
| £40.00 | 36 Months 14.9% APR | £4.00 | £1.15 | £45.36 |
| £40.00 | 48 Months 14.9% APR | £4.00 | £0.86 | £45.36 |
| £40.00 | 12 Months 19.5% APR | £4.00 | £3.58 | £47.02 |
| £40.00 | 18 Months 19.5% APR | £4.00 | £2.39 | £47.02 |
| £40.00 | 24 Months 19.5% APR | £4.00 | £1.79 | £47.02 |
| £40.00 | 36 Months 19.5% APR | £4.00 | £1.19 | £47.02 |
| £40.00 | 48 Months 19.5% APR | £4.00 | £0.90 | £47.02 |
Recommend a friend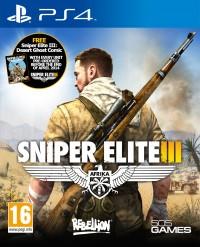 Sniper elite iii ps4
Experience an assassination attempt like no other in this tense, exclusive pre-order mission for Sniper Elite III! Most historians will tell you Adolf Hitler committed suicide on April 30th 1945. Others believe he fell to a sniper bullet in the mountainous outskirts of Berlin as he ran for his life. But OSS agent and elite sniper Karl Fairburne knows the truth.
After all. He's killed him more than once... Use stealth and distraction to infiltrate the German-held city of Tobruk, in 1942. Avoid detection and explore the ancient streets and crumbling rooftops for crucial intel as you piece together the truth and prepare for one final shot. Dare you pull the trigger?
Featuring an expansive open environment and randomised target identities, journals and locations, no two playthroughs will be the same. The question is – can you tell fact from fiction, the real target from the double? The question is – will it make a difference?
Featuring a greater focus on player agency/choice and expansive environments filled with opportunities for distinct play styles, and set in the exotic yet deadly terrain of North Africa during World War Two, Sniper Elite III sees American OSS agent Karl Fairburne deep behind Nazi lines, providing crucial sharpshooter skills as the Allies battle Germany's fearsome Tiger tanks across the Western Desert.
But it's not just the famed Afrika Korps that Karl has to worry about. He soon uncovers German plans to build a "wunderwaffe" (wonder weapon) with the power to crush any Allied forces in its path and turn the tide of the whole war.
Features:
Observe. Plan. Execute. Adapt: Expansive environments allow the player to choose how they complete the mission, offering non-linear multi-routes, and more verticality than ever before, offering the freedom to take out the enemy by your own design.
Relocation: A sniper always needs an exit strategy. Search the varied environments to create and discover opportunities that suit your play style: sniper nests, ambush locations, alternative approaches, sound masking and trap setup. Prioritise your targets to maximise your advantage and use shadows and darkness to remain unseen by the Afrika Korps, or relocate to keep your prey guessing.
Environment: The North African battlefields of WWII provide great visual variation, significantly different from any other sniping title before it, allowing for much longer-ranged shots. Play amongst mountain ranges and huge flat plains; bustling townships and cities, and remote village settlements.
Improved Afrika Korps AI: Clear cues for engagement and detection and a rebuilt AI system emphasising squad roles and tactics make the Afrika Korps smarter and more challenging while allowing the player more meaningful choices. Backed by a variety of vehicles from Jeeps to Panzer Tanks, the Afrika Korps are a force to be reckoned with.
Weapon & Character Customisation: Gain XP and sniper ranks from both single and multiplayer progression to unlock over 40 new and unique customisation parts and build the ultimate rifle that best suits your mission and play style. Customise individual load-outs and store them for both multiplayer and single-player engagements.
Improved Human Kill-Cam: Now shows even greater detail including the human circulatory system and complete muscle layer.
Our Price Match Promise means that if you find any of our Equipment at a lower advertised price elsewhere, we will match the price for you, subject to the below.
The product is identical to ours in brand, colour, size and model number.
The price must be the advertised price clearly on the competitor's online site.
The item must be in stock and available for immediate purchase (rather than available to order), with the authorised stockist able to complete delivery within 2-3 days.
Please fill out the form below. The details will be used to help us with your price promise request.
Others who viewed this item WERE ALSO INTERESTED IN...