Whistler ws1065 desktop radio scanner motorola analog, edacs, ltr and digital apco p25 (9600 bps).
Whistler ws1065 desktop radio scanner motorola analog, edacs, ltr and digital apco p25 (9600 bps).
£0.00
(

£0.00

exc. VAT)
£329.95
(

£274.96

exc. VAT)
Fast uk delivery
Worldwide delivery
Finance Available
Radioworld now offer finance through our partners Close Brothers.
Add the item to your basket in the normal way and at checkout choose to make payment via Finance. You'll then be taken through to our partners Pay4Later to make your finance application.
| Item Cost | Finance Option | Deposit | Monthly Payments | Total Cost |
| --- | --- | --- | --- | --- |
| £329.95 | 12 Months 14.9% APR | £33.00 | £28.43 | £374.20 |
| £329.95 | 18 Months 14.9% APR | £33.00 | £18.96 | £374.20 |
| £329.95 | 24 Months 14.9% APR | £33.00 | £14.22 | £374.20 |
| £329.95 | 36 Months 14.9% APR | £33.00 | £9.48 | £374.20 |
| £329.95 | 48 Months 14.9% APR | £33.00 | £7.11 | £374.20 |
| £329.95 | 12 Months 19.5% APR | £33.00 | £29.57 | £387.86 |
| £329.95 | 18 Months 19.5% APR | £33.00 | £19.71 | £387.86 |
| £329.95 | 24 Months 19.5% APR | £33.00 | £14.79 | £387.86 |
| £329.95 | 36 Months 19.5% APR | £33.00 | £9.86 | £387.86 |
| £329.95 | 48 Months 19.5% APR | £33.00 | £7.39 | £387.86 |
Recommend a friend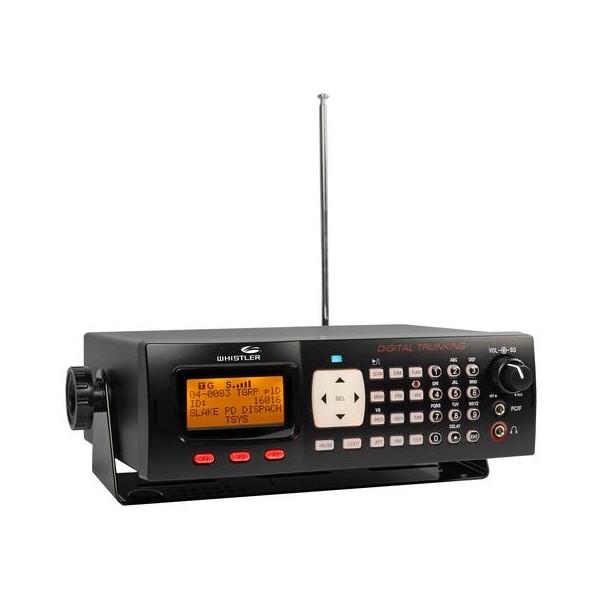 Whistler ws1065 desktop radio scanner motorola analog, edacs, ltr and digital apco p25 (9600 bps).
The Whistler WS1065 employs cutting-edge technology to bring a high level of performance and innovative features. This model raises the bar in the area of advanced trunking scanners. Frequency coverage is extensive including 25-54, 108-17, 137-174, 216-512, 764-776, 795-805, 849-869, 896-960 and 1240-1300 MHz. 1800 memories are available and may be dynamically structured to the bank sizes you prefer. Plus you can store 21 virtual scanners (so that is a total of 37,800 objects). The large backlit LCD is four lines by 16 characters. The keys are also backlit. Supported trunking systems include Motorola Analog, EDACS, LTR, and Digital APCO (9600 bps). The WS1065 stores up to 1,800 frequencies and lets you search for nearby frequency transmissions and automatically jump to a found transmission.
Key Features/Specifications: Alert LED - Programmable multi-colour LED can be configured to illuminate or flash when certain objects are active. Eight user-defined colours can be specified from thousands of possible combinations.
Audible Alarms - Programmable audible alarms can be configured to sound when specific Scannable Objects are active. The Alert LED described above can be used in conjunction with or separately from.
Automatic Adaptive Digital Tracking - When monitoring P25 digital systems, instantly adapts the digital decoder to the digital modulation format of the transmitted signal, then analyzes the signal over 50 times each second and adapts to any subtle changes caused by multipath or fading. No cumbersome manual adjustments are required.
Backlit Liquid Crystal Display - Easy to read and program data even in low light situations.
Data Cloning - allows the transfer of the programmed data to another WS1010 scanner.
Digital AGC - Instantly compensates for low user audio levels that are common on digital systems.
Flexible Antenna with BNC Connector - provides reception of strong local signals. Also, connect an external antenna for improved reception of distant or weak passwords.
Free-Form Memory Organization - Allocation of memory dynamically and efficiently as it is needed. This differs from low-cost and older scanners that had memory organized in rigid and wasteful memory banks.
High-Speed PC Interface - Use a USB Scanner programming cable for full-duplex mode at 6 times the speed of previous scanner models for PC transfer and 8 times the speed of previous models for radio-to-radio cloning. High-speed special USB to scanner programming cable included. Clones with another WS1040 handheld or with another WS1065 desktop/mobile scanner.
Key Lock - Lock the scanner's keys to help prevent accidentally changing the scanner's programming.
Lock-out Function - Skip over specified channels or frequencies when scanning or searching.
LTR Home Repeater AutoMove - Takes the guesswork out of programming LTR trunking systems when the home repeater order is not known. Enter the LTR system frequencies in any order, and the WS-1040 will automatically move the frequencies to the proper home repeater slots as transmissions are received on the system.
Memory Backup - Frequencies remain stored in memory for an extended time even without batteries.
Menu-Driven Programming with Context-Sensitive Help - Each menu item provides a few lines of help text that assist with programming and using the scanner.
Multi-System Trunking - Scans the most common trunked radio system signalling formats, including Motorola, EDACS, LTR, and P25 trunked radio networks. Both talk group and individual call monitoring are supported.
Object-Oriented User Interface - Exclusive to Whistler, features common data entry, browsing, and control methods are used for every scannable object. All are programmed and stored in the same way.
P25 NAC Functionality - P25 Network Access Code (NAC) is used to provide selective squelch operation on conventional digital channels. Your WS1040 will detect the NAC that is being used on a P25 conventional digital channel, and allow you to program NAC codes to block transmissions that do not have a matching NAC, including analogue traffic on the same frequency.
PC programmable - allows users to backup data, update the database and program the scanner directly from a PC. (Butel ARC500 software required)
Priority Channel - set the scanner to check one channel every two seconds while scanning.
Real-time Signal Strength Indicator - This shows the relative strength of received signals.
SAME and All Hazards Weather Alerting - displays the weather event and sounds an alert for a specific county or counties of your choice. (USA ONLY)
Scan Delay - delays scanning for two seconds before moving to another channel to hear replies.
Scan List - Functionality allows you to arrange, group, and scan objects according to your preference.
Skywarn Storm Spotter Functionality - provides instant access to frequencies used by storm spotter networks. Monitor storm conditions as they occur, and become aware of dangerous conditions before the media or emergency management officials can announce them to the general public. (USA ONLY)
Spectrum Sweeper - Quickly sweeps the scanner's frequency ranges for transmissions from nearby sources. Lockout found frequencies and continue searching in the same band.
Subaudible Squelch Decoder - CTCSS and DCS subaudible squelch coding are processed by the same powerful DSP chip that is used for P25 digital decoding. Provides fast and reliable decoding of subaudible squelch signalling with squelch tail elimination.
Three Power Options - Power the scanner using batteries (rechargeable or non-rechargeable), external AC power (using supplied AC adapter), or DC power (using a DC adapter, not supplied).
Tune - Find new and unlisted frequencies starting from a specified frequency.
V-Scanner Technology - This allows you to save complete radio configurations within the radio, for recall into main memory as needed in the field. Twenty-one V-Scanner Folders are provided, each capable of storing over 1,800 objects. The total memory capacity of the main memory combined with V-Scanners is over 37,800 objects.
SPECS, Unit Dimensions 2.2 in. H x 7.3 in. W x 5.3 in. L
Unit Weight 2.64 lbs.
IN THE BOX. Digital Desktop/Mobile Scanner, PC/IF Cable, DIN-E Adapter, AC Adapter, DC Cable, Telescopic Antenna, Mobile Mounting Bracket, User Guide, Quick Start Guide, Frequency coverage: 25-30 Amateur 10 Meters, 30-50 VHF Low Band, 50-54 Ham Band 6 Meters, 108-137 Aircraft Band, 137-144 Federal Government, 144-148 Amateur Band 2 Meters, 148-174 VHF High Band, 216-405 UHF, Mil Air Band, 406-420 Federal Government, 420-450 Amateur Band 70 Cm, 450-470 UHF Band, 470-512 UHF "T" Band, 764-775 800, MHz Band, 794-806 800 MHz Band, 806-960 800 MHz Band, 1240-1300 Amateur Band.
Our Price Match Promise means that if you find any of our Equipment at a lower advertised price elsewhere, we will match the price for you, subject to the below.
The product is identical to ours in brand, colour, size and model number.
The price must be the advertised price clearly on the competitor's online site.
The item must be in stock and available for immediate purchase (rather than available to order), with the authorised stockist able to complete delivery within 2-3 days.
Please fill out the form below. The details will be used to help us with your price promise request.
Others who viewed this item WERE ALSO INTERESTED IN...