Zivix jamstik+ smart guitar
£0.00
(

£0.00

exc. VAT)
£250.00
(

£208.33

exc. VAT)
Finance Available
Radioworld now offer finance through our partners Close Brothers.
Add the item to your basket in the normal way and at checkout choose to make payment via Finance. You'll then be taken through to our partners Pay4Later to make your finance application.
| Item Cost | Finance Option | Deposit | Monthly Payments | Total Cost |
| --- | --- | --- | --- | --- |
| £250.00 | 12 Months 14.9% APR | £25.00 | £21.54 | £283.52 |
| £250.00 | 18 Months 14.9% APR | £25.00 | £14.36 | £283.52 |
| £250.00 | 24 Months 14.9% APR | £25.00 | £10.77 | £283.52 |
| £250.00 | 36 Months 14.9% APR | £25.00 | £7.18 | £283.52 |
| £250.00 | 48 Months 14.9% APR | £25.00 | £5.39 | £283.52 |
| £250.00 | 12 Months 19.5% APR | £25.00 | £22.41 | £293.87 |
| £250.00 | 18 Months 19.5% APR | £25.00 | £14.94 | £293.87 |
| £250.00 | 24 Months 19.5% APR | £25.00 | £11.20 | £293.87 |
| £250.00 | 36 Months 19.5% APR | £25.00 | £7.47 | £293.87 |
| £250.00 | 48 Months 19.5% APR | £25.00 | £5.60 | £293.87 |
Recommend a friend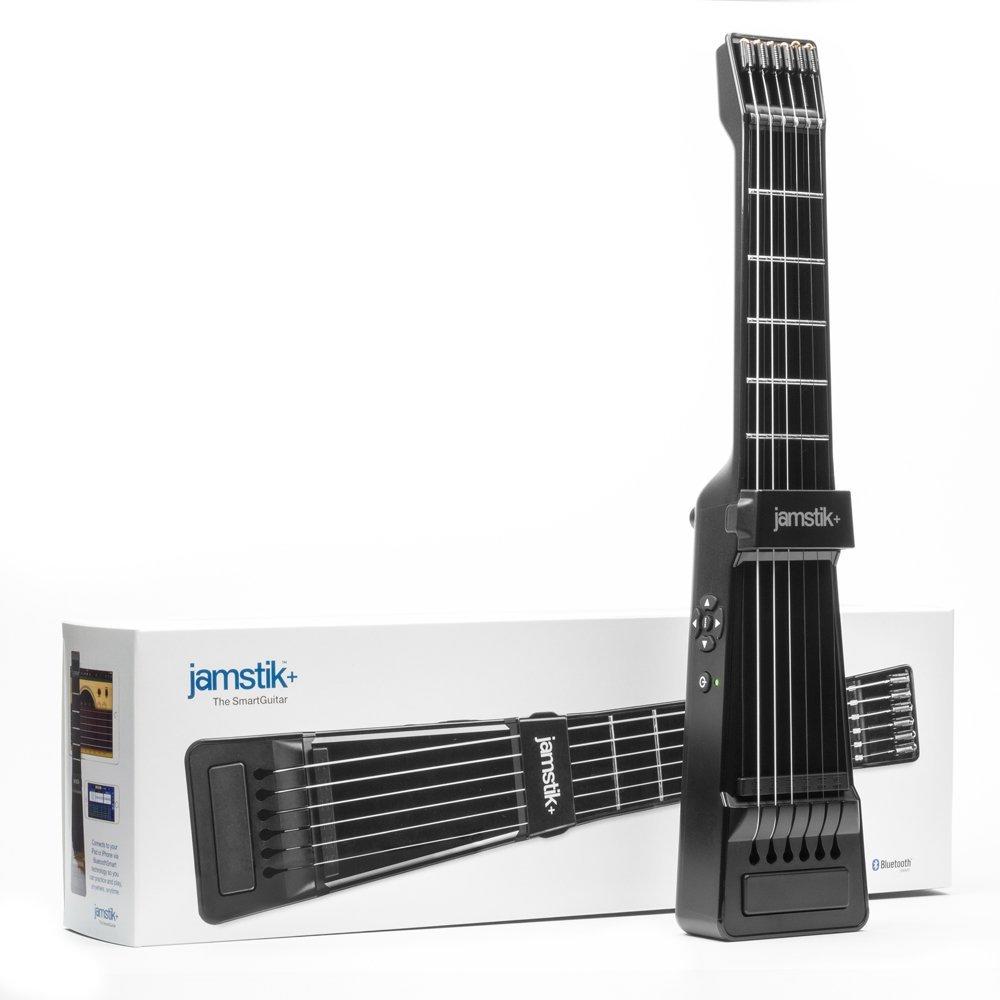 Zivix jamstik+ smart guitar
World's first digital smartguitar with wireless connectivity to iphone, ipad & mac.
The first of its kind... Introducing the jamstik+, a BluetoothSmart enabled digital guitar with real strings and real frets. It works with your iPad, iPhone or Mac and a multitude of music apps, including an interactive guitar lessons app series, so anyone from beginners to pros can play. The jamstik+ is the easiest and most fun way to learn guitar.
Portable and easy to get started, the jamstik+ lets you learn at your own pace, and in your own time. No prior music experience and no tuning needed. There's nothing else like it. Why? Because the jamstik+ is the only digital guitar that can sense your fingers and display on your favorite Apple device right from wrong, in real-time. It's like having your personal music instructor at your side every time you play.
Create and Record Music Anywhere
The jamstik+ has a compact design, measuring just over 40cm and weighing just over 900g, making it the perfect size to carry in a rucksack or carry on. The Bluetooth enabled jamstik+ is compatible with your iPhone, iPad and Mac meaning you can take it anywhere so you never have to stop playing.
Compatible Apps
We have tested each of our favourite music apps for compatibility and quality of experience when using with the jamstik+. Some of our favourites include GarageBand, Sunrizer, Arctic Keys, Animoog, NAVE, jamTutor, jamMix, iSEM, Ableton Live, Protools, Logic Pro X, Reason and Acid Pro 7. All will help you to learn or play and take your music to the next level. With hundreds of compatible apps you can take your music to the next level to learn, create and play.
Real Strings and Frets
A MIDI guitar controller needs to feel and play like an actual guitar and that's exactly why the jamstik+ has real strings and frets. We made sure that any musician using the jamstik+ can apply their guitar skills like string bend or vibrato to create authentic guitar sounds yet being able to play any MIDI sound for unlimited creative options.
Jamstik+
The jamstik+ app is the hub to connect via Bluetooth in seconds. Once connected, you will then be able to experiment with over 20 sounds and use the built-in chords and scale library. Access features such as tap mode, string bend & hammer-ons! You can also customise your jamstik+ experience by adjusting the sensitivity, programming D-Pad functions, using custom tunings and much more, all from within the app!
JamTutor
The JamTutor App Series helps you to learn chords in minutes thanks to self-paced interactive lessons. Learn your first chords and scales quickly thanks to the ability to see your finger positions on-screen. It also has 100% interactive game-like fun with its real time arcade challenges. With over 25 full-length songs, you can improve your guitar playing skills while having fun in wait-for-note practice mode.
FourChords
The FourChords App enables you to learn over 1000 popular songs with new tunes added each week. jamstik+ users get a free 30 day trial so you can play with backing tracks and lyrics to perfect your playing. It allows you to adjust the tempo and backing tracks so that you can learn at your own pace. It also features simplified song versions and has an easy to follow interface; perfect for any beginner.
Our Price Match Promise means that if you find any of our Equipment at a lower advertised price elsewhere, we will match the price for you, subject to the below.
The product is identical to ours in brand, colour, size and model number.
The price must be the advertised price clearly on the competitor's online site.
The item must be in stock and available for immediate purchase (rather than available to order), with the authorised stockist able to complete delivery within 2-3 days.
Please fill out the form below. The details will be used to help us with your price promise request.
Others who viewed this item WERE ALSO INTERESTED IN...