Bubblebum car booster seat neon
£0.00
(

£0.00

exc. VAT)
£24.95
(

£20.79

exc. VAT)
Finance Available
Radioworld now offer finance through our partners Close Brothers.
Add the item to your basket in the normal way and at checkout choose to make payment via Finance. You'll then be taken through to our partners Pay4Later to make your finance application.
| Item Cost | Finance Option | Deposit | Monthly Payments | Total Cost |
| --- | --- | --- | --- | --- |
| £24.95 | 12 Months 14.9% APR | £2.49 | £2.15 | £28.29 |
| £24.95 | 18 Months 14.9% APR | £2.49 | £1.43 | £28.29 |
| £24.95 | 24 Months 14.9% APR | £2.49 | £1.07 | £28.29 |
| £24.95 | 36 Months 14.9% APR | £2.49 | £0.72 | £28.29 |
| £24.95 | 48 Months 14.9% APR | £2.49 | £0.54 | £28.29 |
| £24.95 | 12 Months 19.5% APR | £2.49 | £2.24 | £29.33 |
| £24.95 | 18 Months 19.5% APR | £2.49 | £1.49 | £29.33 |
| £24.95 | 24 Months 19.5% APR | £2.49 | £1.12 | £29.33 |
| £24.95 | 36 Months 19.5% APR | £2.49 | £0.75 | £29.33 |
| £24.95 | 48 Months 19.5% APR | £2.49 | £0.56 | £29.33 |
Recommend a friend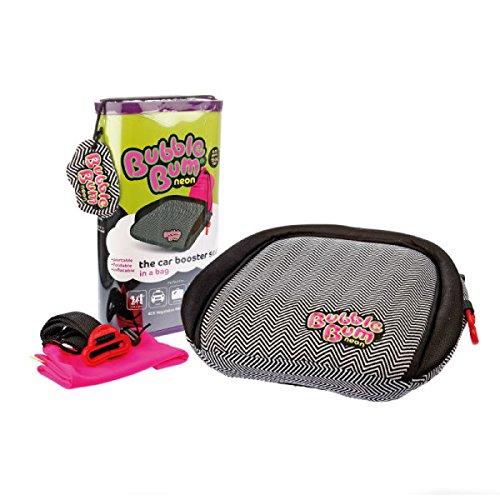 Bubblebum car booster seat neon
BubbleBum, the cost-effective, portable, lightweight, brightly coloured, inflatable car booster seat for children aged between 4-11 easily deflates and folds flat so that kids or mums can carry it in rucksacks or handbags, making it perfect for holidays, rental cars, taxis, coach journeys, school trips or car pooling.
ECE Regulation R44/04 approved.
(This means it has been crash tested and can be used in any EU country.)
Designed to fit into your busy family life, the BubbleBum can go with them, wherever they go. Weighing half a kilogram, the light, compact design means that when deflated and folded, it can fit comfortably into schoolbags, handbags, rucksacks or even the glove compartment of your car, ready to inflate quickly and easily. The kids never have to be without a booster seat again. When traveling, it's the perfect companion.
portable & lightweight
inflatable & re-useable
inflates by mouth – taking less than 20 seconds to inflate
folds flat
packs away into its very own stretchy bag
comfortable & colourful
affordable
with added belt positioning clip for extra comfort
Facts:
kids
age: 4 -11 years
weight: 15 – 36 kgs
height: up to 135cm
dimensions
33cm x 33cm x 11cm when inflated
tip: ideal as you can now fit three across the back
Suitable vehicles
all vehicles fitted with a three point seat belt
material
durable material similar to that of life vests and other life saving products: inside the air chamber, the cushion memory foam adds stability and structural integrity. Soft energy absorbing materials surround the air chamber which is fitted with belt positioning clips.
Safety:
UK law states that every child under the age of 12 and shorter than 135cm must travel with a child seat or booster seat to help avoid serious injury in the event of a traffic collision.
The BubbleBum has been approved under the United Nations ECE Regulation R44/04 for safety for both Groups 2 and 3. It is designed for use with a standard 3 point adult seat belt that has been approved to ECE Regulation 16 or equivalent.
We have discovered that small children tend to put the shoulder section of the vehicle seat belt under the arm or behind their back; this is VERY Dangerous.
We have included in our V2 product a shoulder belt positioning clip which holds the belt against the child's shoulder and away from the neck reducing any discomfort the child may feel on their neck. While this is for comfort only, it reduces the potential for misuse of the vehicle seat belt and we recommend that it is used with smaller children who find that the seat belt causes discomfort.
now shipping BubbleBum V2 – with added belt positioning clips.
Even though your child will be safer on a BubbleBum than using a vehicle seat belt alone, we recommend that you keep your child in a 5 point harness seat as long as possible.
Our Price Match Promise means that if you find any of our Equipment at a lower advertised price elsewhere, we will match the price for you, subject to the below.
The product is identical to ours in brand, colour, size and model number.
The price must be the advertised price clearly on the competitor's online site.
The item must be in stock and available for immediate purchase (rather than available to order), with the authorised stockist able to complete delivery within 2-3 days.
Please fill out the form below. The details will be used to help us with your price promise request.
Others who viewed this item WERE ALSO INTERESTED IN...