Pop maxi with bluetooth stereo dab digital and fm radio with bluetooth
£0.00
(

£0.00

exc. VAT)
£119.99
(

£99.99

exc. VAT)
Finance Available
Radioworld now offer finance through our partners Close Brothers.
Add the item to your basket in the normal way and at checkout choose to make payment via Finance. You'll then be taken through to our partners Pay4Later to make your finance application.
| Item Cost | Finance Option | Deposit | Monthly Payments | Total Cost |
| --- | --- | --- | --- | --- |
| £119.99 | 12 Months 14.9% APR | £12.00 | £10.34 | £136.08 |
| £119.99 | 18 Months 14.9% APR | £12.00 | £6.89 | £136.08 |
| £119.99 | 24 Months 14.9% APR | £12.00 | £5.17 | £136.08 |
| £119.99 | 36 Months 14.9% APR | £12.00 | £3.45 | £136.08 |
| £119.99 | 48 Months 14.9% APR | £12.00 | £2.58 | £136.08 |
| £119.99 | 12 Months 19.5% APR | £12.00 | £10.75 | £141.05 |
| £119.99 | 18 Months 19.5% APR | £12.00 | £7.17 | £141.05 |
| £119.99 | 24 Months 19.5% APR | £12.00 | £5.38 | £141.05 |
| £119.99 | 36 Months 19.5% APR | £12.00 | £3.58 | £141.05 |
| £119.99 | 48 Months 19.5% APR | £12.00 | £2.69 | £141.05 |
Recommend a friend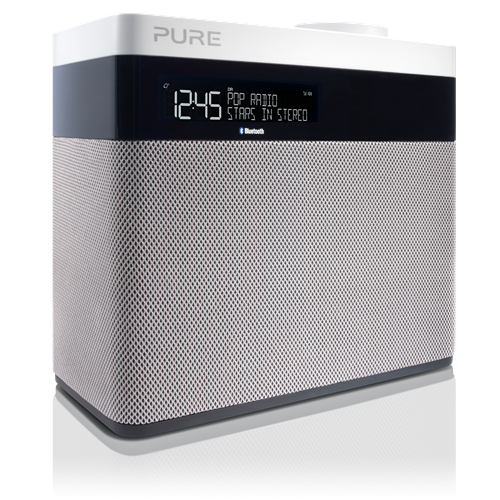 Pop maxi with bluetooth stereo dab digital and fm radio with bluetooth
If you're looking for a great stereo digital radio or superior sounding Bluetooth speaker, Pop Maxi with Bluetooth from our Pop family gives you the best of both worlds. Listen to your favourite digital radio station or use Bluetooth to stream your favourite song, playlist or internet radio station wirelessly from your mobile or tablet.
Your music, no wires
Built-in Bluetooth turns your radio into a great wireless speaker – just choose your favourite music, streaming service or internet radio station and play it direct from your phone or tablet without trailing wires.
Looks good, sounds great
Pop Maxi with Bluetooth doesn't just look good. The dual speakers create a superior stereo sound, giving greater clarity and volume to the music you love. Like all our other Pure digital radios, Pop Maxi with Bluetooth has been engineered and hand tuned by our audio experts in the UK to ensure the best possible sound.
Switch on to digital radio
DAB digital radio brings you high-detail digital-quality sound, lots of stations (many exclusive to digital) and uses scrolling text to show you track titles, programme names and more. Digital radios automatically find all your available stations and let you select them by name, and all our digital radios also include FM for any stations that have not yet gone digital. Pop Maxi with Bluetooth is also Digital Tick approved so you can rest assured that you're ready for any future FM to digital radio switchover.
Packed with features
Pop Maxi also features a highly visible clock, 10 presets (with five quick access buttons), two alarms, kitchen timer, stereo headphone socket and aux-in for your iPod or MP3 player. For portable listening, Pop Maxi with Bluetooth takes an optional eco-friendly ChargePAK D1 or four AA batteries.
Radio:
Digital and FM radio
Frequencies:
DAB/DAB+, FM radio 87.5-108 MHz, products sold in France receive DAB/DAB+/DMB‑ R, FM radio 87.5-108 MHz
Bluetooth:
Built-in Bluetooth with A2DP support
Speaker:
Twin full-range 3" drive units
Audio power output:
2 x 4.3W RMS
Input connectors:
5.5V DC power adaptor socket (230V supplied), 3.5mm Line-in for auxiliary devices
Output connectors:
3.5mm stereo headphone socket
Power supply:
230V AC to 5.5V (3.0A) DC external power adapter (supplied), optional ChargePAK D1 rechargeable battery pack or four AA batteries)
Power consumption:
Standby with clock display: 0.75W, Standby without clock display: <0.5W, Active: 1.34W
Aerial:
Telescopic aerial
Dimensions:
185 mm wide x 173 mm high x 102 mm deep
Warranty:
Comprehensive three year warranty
Approvals:
CE marked. Hereby, Pure declares that this Band II LPD device is in compliance with the essential requirements and other relevant provisions of Directive 1999/5/EC.
Box contents:
Pop Maxi
Power adapter
User guide
Our Price Match Promise means that if you find any of our Equipment at a lower advertised price elsewhere, we will match the price for you, subject to the below.
The product is identical to ours in brand, colour, size and model number.
The price must be the advertised price clearly on the competitor's online site.
The item must be in stock and available for immediate purchase (rather than available to order), with the authorised stockist able to complete delivery within 2-3 days.
Please fill out the form below. The details will be used to help us with your price promise request.
Others who viewed this item WERE ALSO INTERESTED IN...