B-1018g mirage 0.25-10w in, up to 160w out 2m amplifier
£0.00
(

£0.00

exc. VAT)
£699.95
(

£583.29

exc. VAT)
Fast uk delivery
Worldwide delivery
Finance Available
Radioworld now offer finance through our partners Close Brothers.
Add the item to your basket in the normal way and at checkout choose to make payment via Finance. You'll then be taken through to our partners Pay4Later to make your finance application.
| Item Cost | Finance Option | Deposit | Monthly Payments | Total Cost |
| --- | --- | --- | --- | --- |
| £699.95 | 12 Months 14.9% APR | £69.99 | £60.32 | £793.81 |
| £699.95 | 18 Months 14.9% APR | £69.99 | £40.21 | £793.81 |
| £699.95 | 24 Months 14.9% APR | £69.99 | £30.16 | £793.81 |
| £699.95 | 36 Months 14.9% APR | £69.99 | £20.11 | £793.81 |
| £699.95 | 48 Months 14.9% APR | £69.99 | £15.08 | £793.81 |
| £699.95 | 12 Months 19.5% APR | £69.99 | £62.73 | £822.79 |
| £699.95 | 18 Months 19.5% APR | £69.99 | £41.82 | £822.79 |
| £699.95 | 24 Months 19.5% APR | £69.99 | £31.37 | £822.79 |
| £699.95 | 36 Months 19.5% APR | £69.99 | £20.91 | £822.79 |
| £699.95 | 48 Months 19.5% APR | £69.99 | £15.68 | £822.79 |
Recommend a friend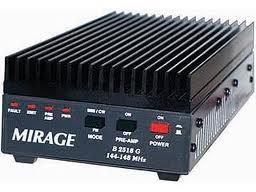 B-1018g mirage 0.25-10w in, up to 160w out 2m amplifier
This compact, rugged, VHF RF power amplifier greatly improves signal quality and range. This unit contains a low-noise GAsFET receiving amplifier, a 160-watt power amplifier, and associated control and protection circuitry. This amplifier operates from any well-filtered direct-current 11-15 volt power source capable of supplying 30 amperes under full load. The power source must be either negative grounded or totally ground independent. 
This amplifier has the following important features: 1.) Automatic RF actuated transmit and receive switching or manual switching 2.) Active bias for greatly improved SSB linearity 3.) Low-noise GAsFET receives preamplifier 4.) True push-pull circuitry and clean RF layout for excellent stability 5.) Excess SWR and overdrive protection 6.) Remote control capabilities.
The RADIO connector of this amplifier is a SO-239 (UHF Female). UHF-style connectors are perfectly fine at frequencies below UHF, and have an almost immeasurable loss at VHF and lower. The amplifier input is matched for 50-ohms, and the amplifier is very stable. The input cable can be any reasonable length, as far as the amplifier is concerned. 6 The ANTENNA connector is a SO-239 (UHF Female). The design load impedance is 50-ohms and any load with a VSWR under 2:1. The output cable must safely handle the full power of the amplifier and must have good connections. Be sure connectors are installed and soldered properly, and the coaxial cables are of reasonably good quality. Control cables can be any length, within reason, because the current is low. The RELAY jack is used to manually place the amplifier in the transmit mode when it is pulled low (to the ground). It is a conventional phono female connector (also called "RCA jack"). This type of connector is common with VCRs and other consumer electronic devices. The current from this jack is less than 100 ma, and the open-circuit voltage is less than 15 volts,
4.4 T/R CONTROL OR SWITCHING This amplifier has an internal RF sensing system that turns off the pre-amplifier and places it in the transmit mode. A front-panel MODE switch activates an internal hang-delay timer for SSB (or CW) operation. This hang-time allows the relays to remain energized without input power for a few seconds. The hang-time is controlled by R8, located at the front and center of the board behind the MODE switch. Delay is normally set for 1 second at the factory. 4.5 POWER OUTPUT The maximum power output for clean linear SSB service is 110 watts PEP. Antenna SWR should be as low as possible. The 13.8-volt 30-ampere power source must not have hum or ripple. The voltage should have less than 0.2 volts sag under full load for best linearity. 12 4.6 ANTENNAS AND FEEDLINES Any antenna and 50-ohm feedline can be used, providing it presents less than 2:1 SWR to this amplifier. Linearity and splatter will be better controlled if SWR is as low as possible, with a 1:1 SWR ratio (unity SWR) being ideal. Be sure to use proper lightning protection techniques when using this amplifier for home or fixed operation. 
4.2 DRIVE POWER, To preserve signal quality in SSB and AM modes, amplifiers must be operated in the linear
portion of their gain curves. Since this amplifier has no tuning adjustments, the user can control
only the load impedance (SWR) and drive power.
Many operators think RF power meters should show some fixed ratio of carrier or "whistle"
power to speech power. This is not correct. The ratio varies greatly with many factors, including
the operator's voice. Pushing up the drive power to "see" a certain output power on a meter that
is NOT a true peak-reading meter is a mistake.
Power should be measured on a true peak-reading meter. Many manufacturers
market meters that are not actual peak-reading meters, even though they call the
meters peak-reading. If you have a meter like that, you will find it impossible to
properly determine drive settings on SSB using the meter.
If you do not have a true peak-reading meter, either an oscilloscope or off-the-air
reports can be used to determine if you are driving the amplifier too hard.
The proper drive power for this amplifier is a drive power allowing output power peaks to reach
approximately 2/3 of the saturated output power, as measured on a true peak-reading meter. 
Input Power Range: .25 - 15.

I (MAX) at 13.8 Volts: 25.

Weight Pounds: 5.

Size W x H x D inches: 12 x 3 x 5.5.

PreAmp Gain: 20 dB.


Our Price Match Promise means that if you find any of our Equipment at a lower advertised price elsewhere, we will match the price for you, subject to the below.
The product is identical to ours in brand, colour, size and model number.
The price must be the advertised price clearly on the competitor's online site.
The item must be in stock and available for immediate purchase (rather than available to order), with the authorised stockist able to complete delivery within 2-3 days.
Please fill out the form below. The details will be used to help us with your price promise request.
Others who viewed this item WERE ALSO INTERESTED IN...